I have no idea how or why the algorithm decided to recommend Hania Rani: live from Studio S2 to me, because I've not ever been into classical piano, and have nothing in my viewing or search history remotely related. But honestly it's one of the most utterly magical things I've heard in my life.
You should go watch and listen, I'll wait.
I don't know why this music fires such incredibly deep emotional triggers in me, but I was an utter wreck afterward (and am so every time I listen).
After I'd finished weeping at the joy of it, I remembered that once long ago in the dim, dark mists of time I was really keen to learn piano. But like many things back then, it wasn't an option and I'd absolutely forgotten about it. Even a colleague talking about adult piano lessons last year, or the excellent anyresemblance buying a piano didn't spark any memory – but this music utterly did.
But hey wow, I realised there is nothing to actually stop me learning now! So I trusted my instinct, spent no time dithering about whether it was the right thing to do, and rented a digital keyboard – which arrived on the day we locked down.
You'd think this would have been the perfect opportunity to get stuck into learning, but as we all know lockdown does not mean vast seas of time to embrace self-improvement activities. It means just kind of holding it all together – interspersed with stress, anxiety and doom-scrolling. And occasional comfort eating of many supermarket cinnamon doughnuts.
♥
But I eventually dusted it off and started with pianote: 7 days to learning piano (beginner lesson) – taking well over 7 days. It's incredibly accessible and super-cheerful and high energy. Of course, I am quite terrible and have absolutely no illusions that I might eventually be anything other than barely competent, but I'm getting a good deal of enjoyment from it.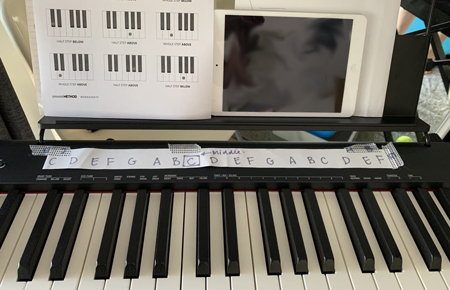 I've got 3 months left on the piano contract (with the option to extend or buy) and have just signed up for 3 months of pianote. That will be my first decision point whether to keep at it. And if I don't want to continue – totally fine! And if I want to take it slowly – also totally fine!
♥
In response to my burning the things I want to let go of activity, someone in my DFH course forum remarked half-jokingly that rather than nurturing our inner child, we should start nurturing our inner teen. I think this is completely genius, because my teen years were completely and utterly shit and maybe teen carolbaby needs a bit of a do-over.
So when things settle a bit, I'm totally going to seek out old lady ballet classes.
And I'm really trying to unravel what other things I wanted to pursue but didn't, because life got in the way.