As soon as I showed this pattern to Don (just for the lulz) he was super-keen on having it for his music-listening-room. I was full of enthusiasm after the HP sampler, so got stuck in.
Pattern is Field of Fucks from FandomCrossStitchery on Etsy.
Purchased pattern: October 2020 | supplies purchased: October 2020 | started stitching: October 2020 | completed stitching: January 2021 | framed: May 2022
Pattern modifications: replaced the french knots with tiny crosses
Stitched on 32 count even weave of some sort – probably Zweigart again. The weave was very gappy so I had to be very precise – even stitching those dots in the letters individually because any carried thread would be visible from the front. Perfectionists R Us.
Completed! Unlaundered.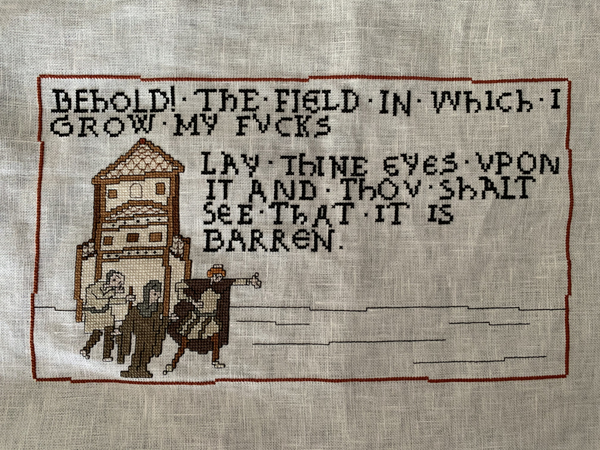 There was a long, long gap between completing stitching and framing because I couldn't settle on a suitable frame. Fortunately unlike with Mr Sparkle, I'd left myself a goodly amount of room around the design which meant I could be fairly flexible.
The vision was for something bonkers-ornate. I expected to magically come upon the perfect thing in a charity shop, but nothing eventuated. Early this year I took it along to the framers and looked at their options, but nothing felt right.

underwhelming
Finally I took to eBay and found this frame. It looked to be exactly what we'd envisioned – though a little larger. After a bit of back-and-forth with the seller on size, I paid a lot more than charity shop prices, but less than professional framing.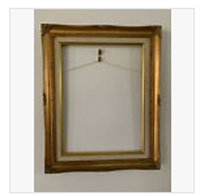 regretting i didn't snag bigger photos from the listing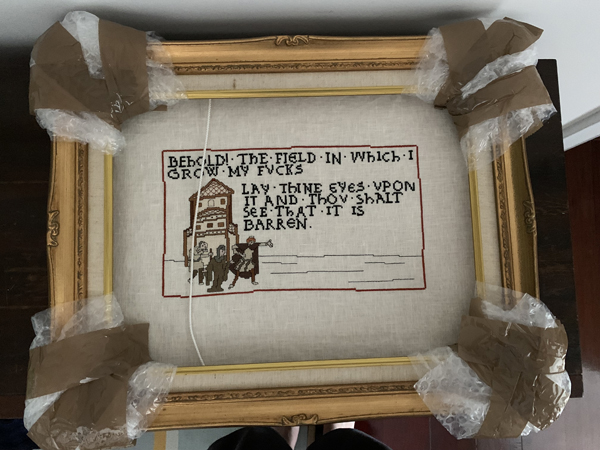 extremely promising
The frame had no glass (or perspex) and no backing. So it was problem solving time! After a couple of false starts (non standard sizing challenges!) I remembered we owned a perspex cutter and had perspex in the garage from a broken ikea frame. This worked a treat.
I mounted the stitching on felt covered foam-core board (my preferred method), backed with very strong cardboard and secured with framing hardware (which was surprisingly easy to find at the Hardware store). Then I sealed it up professional-style with thick paper-tape.
And I got there!
Another finished product I'm ridiculously pleased with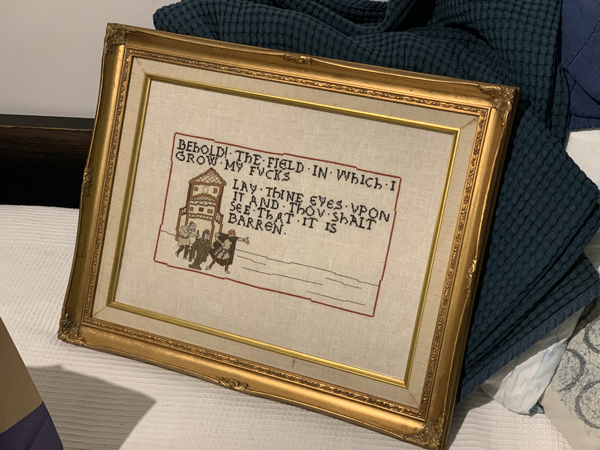 not in situ