Yay! It's officially Spring (why does this not start at equinox? who knows?)
No July update because magical holiday.
Skipped June and may revisit – if I can actually recall what I did in June.
Onward!
♥
01. Use the things!
✅ August was about assessing the things. I donated my remaining five pottery vouchers back to the studio so that someone might benefit from them; we gifted our bicycles to Bessie and Hansel; and set a number of other items free; I've been having conversations with books. It's quite liberating to make literal and mental space.
02. Put my feet in the sea
✅ Completed April.
03. Buy more indoor plants
Completed: March | April | May | August
One adorable wee succulent acquired in August.
04. 30 days of Yoga With Adrienne in January
✅ Completed: January
Can't quite get back into the groove with this – despite knowing it would benefit me greatly.
05. Achieve Big Financial Goal
✅ Completed!
Was scheduled for September, but we snuck in a month early.
Next big financial milestone: December 2023
06. Use my dremel.
✅ Completed May!
07. Choose the loving action.
✅ Definitely a big yes! Getting some perspective and putting career in its rightful place have been the best and most loving things I could do for myself.
08. Try/learn one new skill each month
✅ Attended Lidded Box class at the Bookbinders Guild. Super-fun and my box is very pleasing. I will make more lidded boxes.
09. More music through speakers in ThePalace(OLove) on working days.
NOPE! I am very not good at this one!
10. Show support financially to creators I believe in
✅ Nothing new, but upped my patron tier for Last Homely House. Kate is total #goals for me.
11. Take myself on an adventure in the goget (car share).
NOPE!
12. Attend another sound bath
✅ Completed March | June | August
Laying on a wooden floor for 2 hours is quite the undertaking – no matter how much padding you bring.
13. Take a photo of the sky every day.
✅ 14/31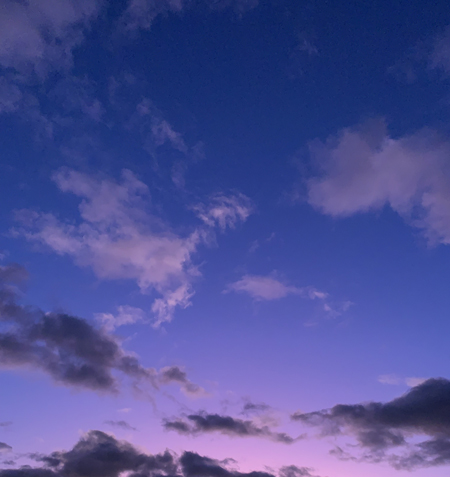 19 August: 5:50pm
14. Stay in the country for a weekend
NOPE! Weekends were full of activity and look likely to remain so until year end, so this is becoming increasingly unlikely.
15. Update supportive footwear.
✅ Completed January
Purchased hiking boots and another pair of walking shoes
16. Have a serious crack at meditation.
NOPE!
17. Go for a morning swim in the local pool
✅ Completed February
Pool re-opens for the season in October – will definitely be there!
18. Have a Reiki session.
NOPE!
19. Disrupt the daily routine at least once a week.
✅ We've been on dinner dates, a movie and twice to the symphony!
20. Cultivate a healthier relationship with work
✅ YES! NINE DAY FORTNIGHT!
21. Get a haircut/trim
✅ Completed February | pre-trip trim in June
22. Experiment! Tiny experiments with all sorts of things!
✅ We've been experimenting with outings – activities on school nights, activities on late nights! Why on earth have we been confining ourselves to weekends before 9pm?