A sort and sharp update!
May seemed both impossibly long and impossibly short. I've been a bit gloomy over recent days, so need to activate the self-care that has fallen by the wayside!
♥
01. Use the things!
+ Last month I undertook to report back on: audible credits (unused), pottery vouchers (used 3!) and Jessica Stanley: Great Hope (untouched)
+ Much to my astonishment, I found the perfect vintage frame on ebay to frame Don's cross stitch and framed it myself – including cutting perspex for the front!
note to self: post crafts
+ I've decided this item encompasses freeing myself of things that I am unlikely to use – so took a gorgeous, but very heavy (>4kg), quilted linen bed-cover to the charity shop. I loved it, but could barely lift the thing – I'm sure someone else will adore it.
02. Put my feet in the sea
✅ Completed April
03. Buy more indoor plants
✅ Completed: March, April, May
04. 30 days of Yoga With Adrienne in January
✅ Completed January
05. Achieve Big Financial Goal
September!
06. Use my dremel.
✅ YES! FINALLY! I made a plant stand from bits around ThePalace(OfLove) and used it to chop bolts down to size.
I felt very brave and capable as the sparks were flying!
note to self: post crafts
07. Choose the loving action.
I'm going to go with probably not.
Or definitely not.
Yeah, definitely not.
08. Try/learn one new skill each month
✅ Looking back, I'm amazed I crammed this into a month.
+ I learned to use my dremel! And made an adorable plant stand from stuff mostly laying about!
+ I learned to make cyanotype prints
+ I learned to frame a picture in a fairly professional manner
+ I learned bookbinding at level 2 (a very intense weekend!)
+ I used my pottery vouchers to re-take the beginners classes.
note to self: post crafts
09. More music through speakers in ThePalace(OLove) on working days.
I am beginning to feel this may not actually be achievable.
10. Show support financially to creators I believe in
Ongoing support on patreon. Nothing new added this month.
I've recently started watching the last homely house who is totally retirement life #goalz – so will likely add her to the patreon roster in June.
11. Take myself on an adventure in the goget (car share).
Not yet! This prompted me to ensure it doesn't auto-renew next year. So a small win!
12. Attend another sound bath
✅ Completed March | another booked for June!
13. Take a photo of the sky every day.
✅ 22/31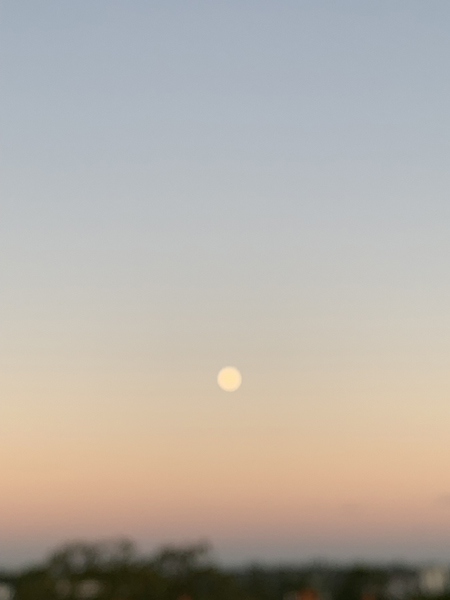 17 May: 6:42am
14. Stay in the country for a weekend
Not yet! Likely to be post-August now given the next few months have weekend commitments.
15. Update supportive footwear.
✅ Completed January
16. Have a serious crack at meditation.
Not yet! My mood is quite low after a Bad Week At Work, so I think this could help.
17. Go for a morning swim in the local pool
✅ Completed February
18. Have a Reiki session.
Not yet!
19. Disrupt the daily routine at least once a week.
+ Don was in Amsterdam for almost 2 weeks for work mid-month. This was by far the longest we've ever been apart and was really quite strange.
I had complete access to the car and therefore did a number of things I ordinarily wouldn't. Obviously it would be completely ridiculous to have a second car, but this period made me aware how I much have hemmed myself in in recent years and how tiny my world has become.
+ I had a possible detached retina, which meant I spent a Friday morning at the Eye Hospital. Routine definitely disrupted!
The eye issue manifested itself as what looked like tiny flying black bugs, which morphed into twinkling fireflies in my vision – after which I had (and still have) a blurry smudge in my field of vision that will not go away. So after a week of this I went to the GP, who sent me to the hospital. No detached or torn retina (yay!), but likely ageing eyes (sorry, but what hell is this?). I need to follow up with an optometrist in 3 weeks. It took a while to land on the appropriate comparison – but it is like I am wearing glasses with a finger-print smudge on the lens – without the glasses.
20. Cultivate a healthier relationship with work
HAHAHAHAHAHAHAHAHA! OMG NO! It's been utterly and completely awful.
Utterly and Completely.
21. Get a haircut/trim
✅ Completed February
22. Experiment! Tiny experiments with all sorts of things!
I'm honestly struggling to come up with anything, so I'll give this one a NO.
I think I still have a little lingering covid ditziness, so I will attempt to take notes for June!
♥