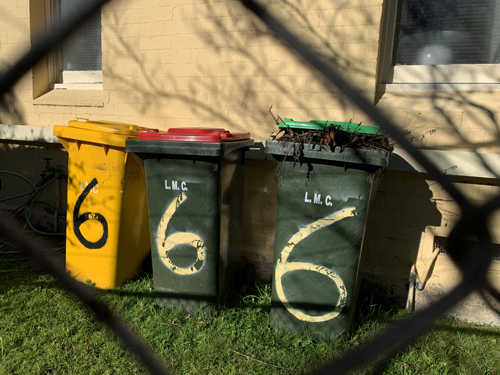 666: the number of the bins
The week that was seemed to last about 7 months, okay, maybe 10 months.
We got out this morning for a long walk to buy our preferred brand of ground coffee at one of the independent supermarkets. I'll spare you the rant about major supermarkets and their increasing lack of brand diversity.
After a week of mist and rain, it was quite wonderful to be out and about in the sunny, crisp and lovely winter day.
I definitely need more long walks in my life – infinitely better than spending all my time glued to a screen.
In non-doom scrolling news:
♥ I commenced the adorbs kitty cross stitch this week. Cross stitching is not at all in alignment with how I see myself, but the heart wants what it wants. I have no idea why I'm finding it so comforting, but I'll keeping rolling with it until it isn't.
♥ My DFH course has kicked off and I'm excited to get stuck in. And admittedly somewhat daunted. The participants are mostly creatives (not in that advertising industry way) and let's just say we don't necessarily have a common vocabulary or manner of expressing ourselves. They're often able to very eloquently articulate their thoughts, ideas and feelings. Me, not quite so much. I know I will gain much from the experience though and imposter syndrome can piss right off.
♥ I've just finished Who is Maud Dixon? on audiobook. It will make a real cracker of a film.
♥ Really interesting long read in the Atlantic about the ephemeral nature of *stuff* the internet. If nothing else a practical reminder to print out those favourite recipes, for they may vanish forever.
♥ Sad to see the excellent smallquietpretty closed up her blog. I will be forever indebted to her for the intro to one of my favourite books ever. The blogosphere is definitely becoming ever quieter. Thank you to everyone who continues to share bits of their world with us.