When we last left glass making, I was in a two week waiting period and kind of agonising over the outcome. Thoughts snuck up on me in the small hours – you know the type – that I should have made something smaller and easier to finish, that I was terrible at this, that I should never have considered anything beyond beginner level, that I have no creative eye, who did I think I was to try this?
My inner voice is such an arsehole.
But as time passed, I made my peace with my block likely being a Failure and took what I could from the (very good) experience – like being in the studio, working alongside creative types, learning something new, experimenting, playing with sharp, pokey things.
A couple of days before pick-up, an email arrived from our teacher …
Hi All,

Well all your works have so far worked beautifully with just one more firing to go….

So all works will be ready for collection this coming Saturday morning.

The works look beautiful!

I have attached some images below for a sneak peak. They are just quick snaps and look much better in real life!

Congratulations!!
I was fully expecting the inclusion of "except for carolbaby's which exploded / melted / cracked / was an utter disaster". But thought it probable that she wanted to break that to me in person.
But wait, what? Hey, there's mine amongst the attachments!

I can't even tell you my relief! Such relief! It worked!
I had envisioned it being oriented the other way up, but I was incredibly happy to be able to collect something which was intact and didn't look hideous!
xxx
I arrived at the appointed time so I could check out everyone's work before they collected it. A few of us had the same idea – and we spent some time admiring each other's pieces and exchanging lavish compliments.
Pleasingly the studio had cleaned and polished our works for us and everything looked dazzling.
I was honestly delighted with mine. I have no idea what one does with a glass block other than gaze at it in wonderment, but I intend to do that often.
Because of the polishing mine is forever destined to sit this way (it's quite opaque and a little rough on the bottom). But I'm good with that and maybe it looks better like this?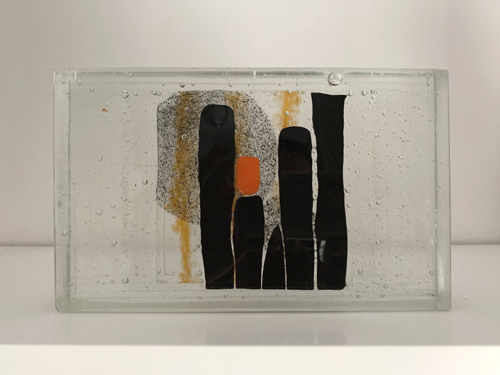 hurrah!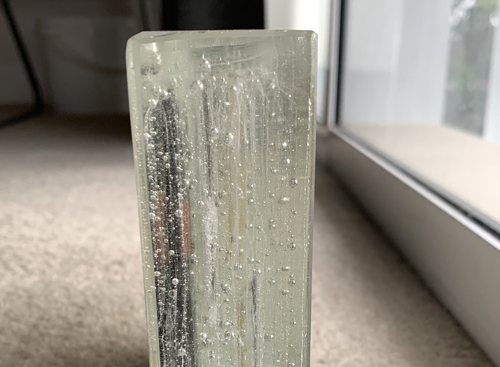 crazy for these bubbles!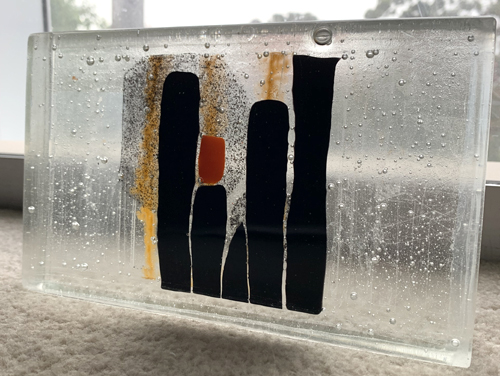 those not-scratches are the outlines of all the tiny fragments of glass I layered to make the block (so many tiny bits)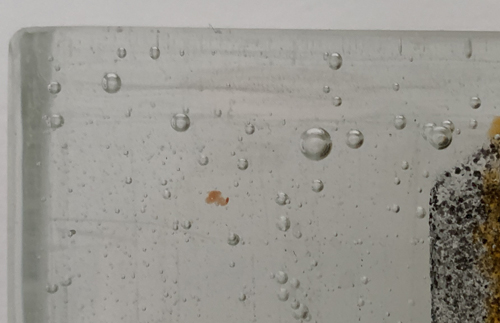 my blood, entombed!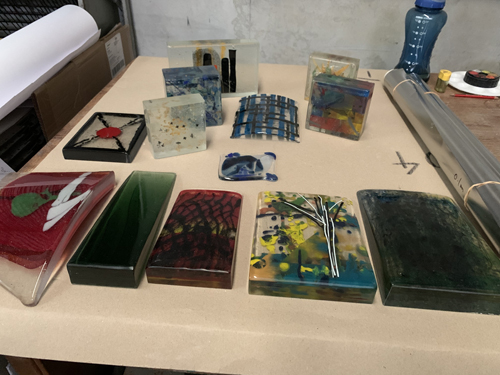 the group's work
I made a pact with myself that I would work my way through my crafts mountain rather than signing up for new classes and social distancing means anything like that is off the table for the foreseeable future, but maybe, just maybe I'd attend another glass class.