I had very good intentions of attacking some of the mountain of craft projects today. Instead I've been sitting at various devices watching coronavirus updates and doing housework.
This is the beauty of going elsewhere to craft – minimal real-life distractions and you can totally pretend you're an artist – no laundry in sight.
Must engage willpower.
xxx
There's a bunch of things I feel like I haven't closed the loop on, so I'll try and use the next little bit to catch up on *stuff*.
First closed loop: second session of my resin class – way back in December!
We last left our heroine with her many resin objects slow-setting in silicon moulds.
Week two was the big reveal. We were all very excited!
And … I was not the only person in the class who absolutely hated everything that came out of their moulds. Disappointment all round.
BUT after a whole lot of time sanding with various grades of wet-and-dry and polishing our pieces with 3 stage polishing compound, we were mostly all turned around on the subject!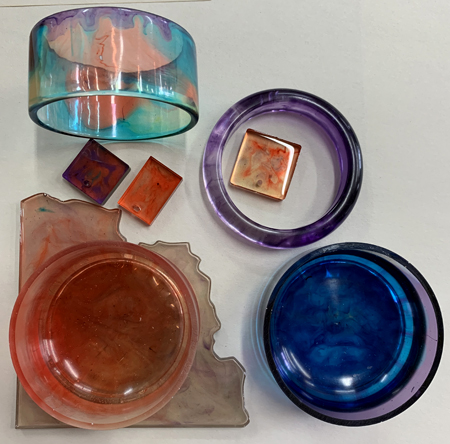 so shiny!
The second half of the class was spent working with a quick-set resin. There was much less flexibility with this – you had to move fast, couldn't get the swirly effects, but you could have quite visible layers. I stayed with the same moulds and kind of the same colourways. I took zero photos of the process – we were locked in a room with masks and safety equipment – yikes!
One advantage of the quick-set we could un-mould quite quickly and take the finished pieces home with us. I had quite a stack!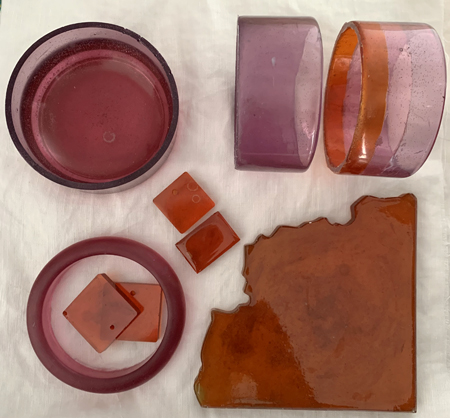 quick-set pieces
I've been living with the bits for a few months and love looking at them. Of course I don't love them all and I am still perplexed by those weird-shaped coasters (why did I choose that mould?), but seeing them all lined up is a rather nice reminder that I can make nice things.


perched on the shelf above the window in Bessie's old room (ignore evidence of the palace falling to bits)
These three small bowls are perfect when placed next to the sewing machine to take pins, thread offcuts and such. These are definitely my favourites – two slow setting, one quick-set.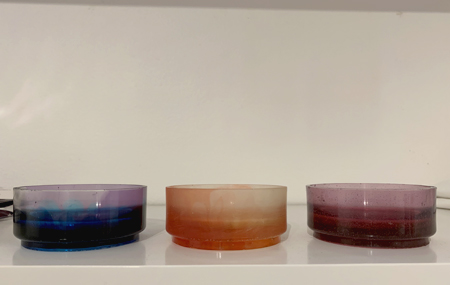 love
I need to do something with these pendant pieces and grabbed supplies a couple of weeks ago – another item on that quite lengthy crafting list!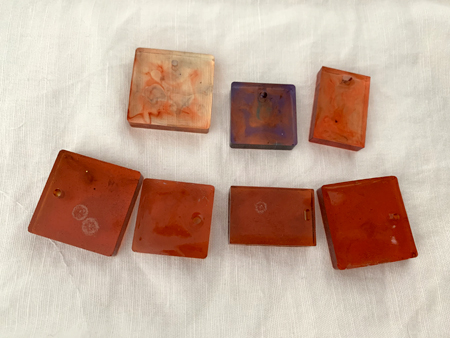 too many pendants are barely enough
I'm contemplating adding *something* at the base of these three bangles. If I re-purpose them into small bowls, I'm more likely to use them.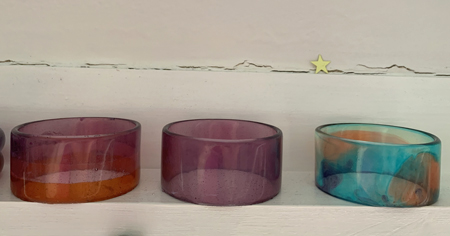 two quick set on left, slow set on right. not a fan of the orange stripe – needs roughing up a bit
Hmmm – maybe I can cut bases from those weird coasters?
So, would I develop a home resin practice? NO! While I really love the look, I have no place in my life for tons of resin pieces. I'm not inclined to wear resin bangles (being all about the sterling silver) and there are only so many non-foodsafe small bowls I have use for. Nonetheless, it was an excellent experience, I'm really very glad I did it.
And that's it for me and crafty classes for a little bit. I want to spend the next months focussing on building that travel fund AND to finally attack some projects on the list.
First step: getting the list out of my head and onto paper.
2823-2820 days