This is one of those items that's been on an XbeforeX list about for around 6 years (goodness! how has it been that long?)
I've been seriously considering a silver jewellery making class for a while now, but most classes have you make a ring and there was zero chance I'd wear it, having really very nice rings already thank you.
As soon as I saw make a silver bangle in a day I signed up immediately. I'm all about the silver bangles and am amassing a small collection. How cool to add one that I made myself!
Technically I'd already ticked off "make a piece of jewellery" when I completed the resin class in December. But this is more what I envisioned when I originally put it on the 50before50 list.
We were a small group of five – an older woman (late 60s?), a 30-something ceramicist, an adorable hipster couple in their 20s and me!
First up (as is pretty standard for these things) the instructor gave an overview, discussed materials and techniques and we pretty quickly got to work setting up our jewellery saws. The blades were crazy-thin and it was rather a challenge to see the wee teeth! Much was done by feel.
We each grabbed an off-cut of copper and practiced cutting shapes. I made a largeish X because I like chunky things. The others made more delicate shapes – like tiny leaves and such. I'm thankful I like chunky things, because I'm pretty confident delicate was not going to happen for me. I'd rate my fine motor skills as decent-to-good, but my sawing skills … not so much. It was a struggle to remember to RELAX and let the blade do the work. I had to remind myself we weren't cutting down a tree. Even if we were cutting down a tree, we would let the blade do the work. Breathe!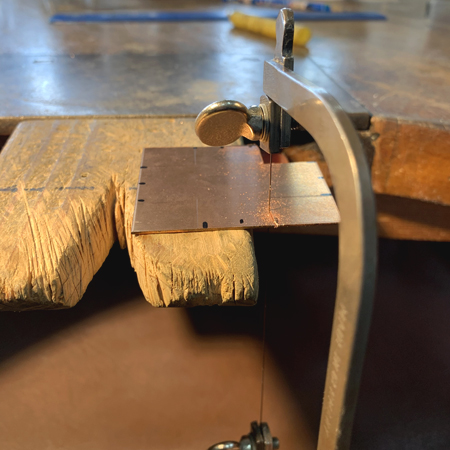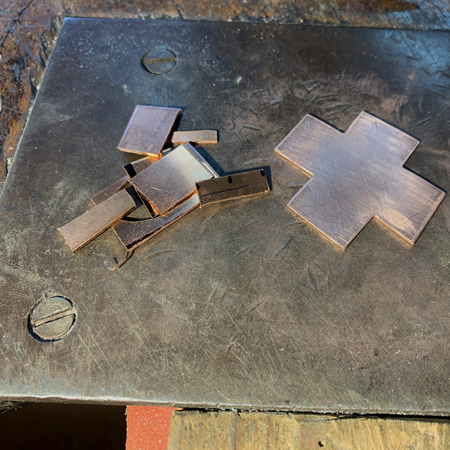 We next received a rectangle of copper to make a cuff. I am not a fan of wearing copper or cuffs, so was not entirely jazzed by this exercise.
And I was not entirely jazzed by the piece as I was working with it. I cut, filed, punched Xs and Os in sections and polished with loads of wet-and-dry paper in decreasing grades of coarseness.
I would go so far as to say it was a Sad Disappointment.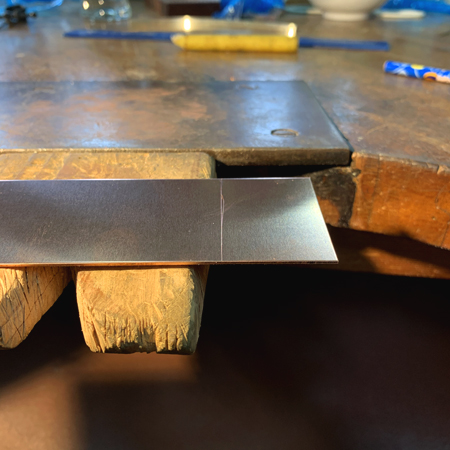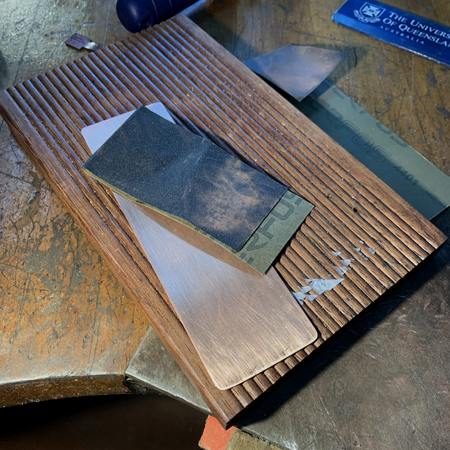 That was until I annealed it with a blow-torch and bashed it into a cuff shape, then I loved it! Definitely my favourite piece of the day. Need to wax it to retain that patina.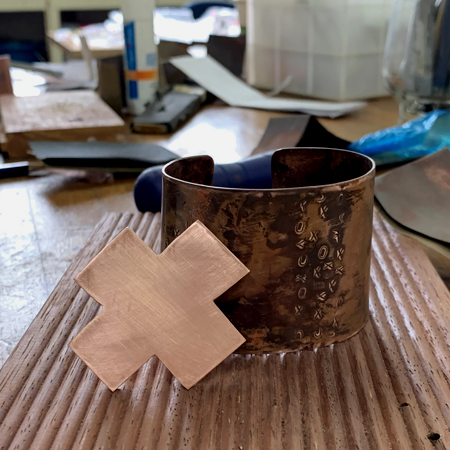 I was hoping to replicate the effect on chunky-X (attempt not pictured), but that was less successful. You can't predict what the torch will do and how the metal will react.
The class was only 5 hours and after completing those two pieces, we were definitely pushing it to make our silver-bangle-in-a-day within the allotted time. The instructor provided hands-on assistance where required which I definitely appreciated as I had a couple of challenges (which I likely could have resolved if we were not so time-boxed!).
My particular challenges:
+ I was quite terrible with the blow torch. You use this to anneal the metal so you can bend it. No matter what I tried, the flame extinguished pretty quickly after I pointed it at a piece. I have no idea what I was doing incorrectly and would have benefited from some troubleshooting, but time constraints meant it was more "okay, let me do that for you!".
+ I discovered I don't file straight – even when I try very hard to do so. Suddenly a whole lot of my past challenges working with with wood made sense!
+ I would have also benefited from a wee vise. It's challenging to hold things still with one hand and operate tools. Perhaps this might have assisted with my dodgy filing?
Instructor helped me to get my filed ends to marry-up before soldering as they were pretty uncooperative. Sadly, soldering is not the nice electronics-type soldering and involves yet more of the dreaded blow torch – which of course I needed help with. Half of the group left their bangle open and thus avoided the soldering, but a joined circle was a non-negotiable for me!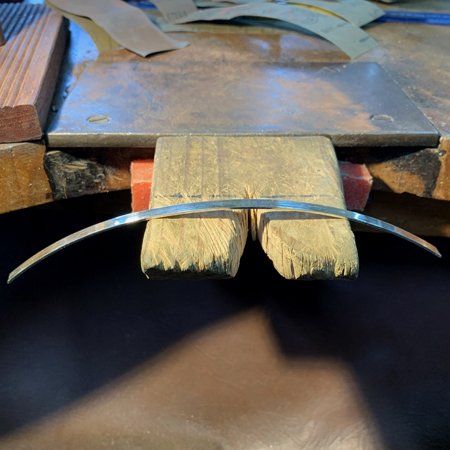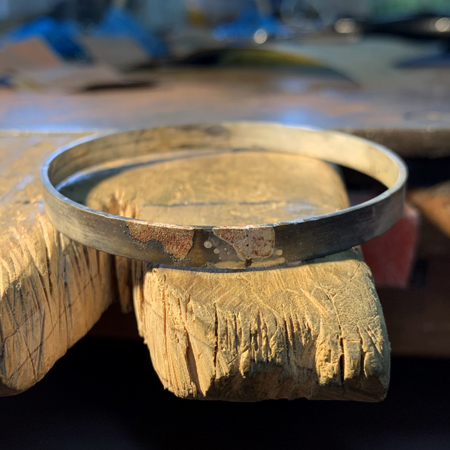 After soldering there was very, very (very!) much sanding to get the bangle all shiny and to remove that oxidising at the join (picture above).
Silver-bangle-in-a-day is simple, very shiny and pretty!
xxx
And just like that, it was over. I was utterly mentally and physically exhausted afterward! But I have a couple of nice things to show for my efforts.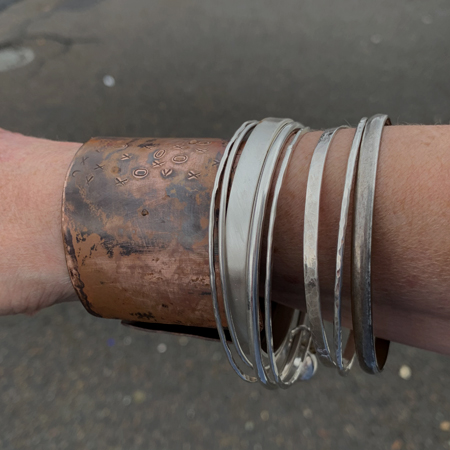 two of these are made by me!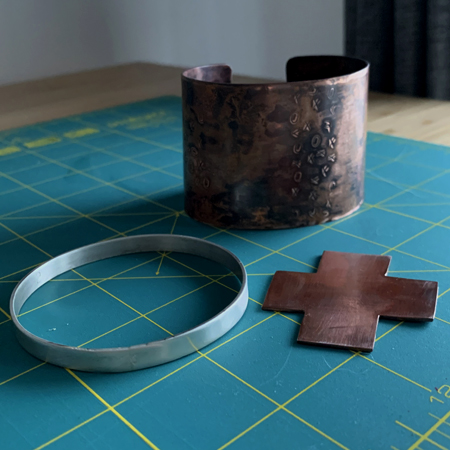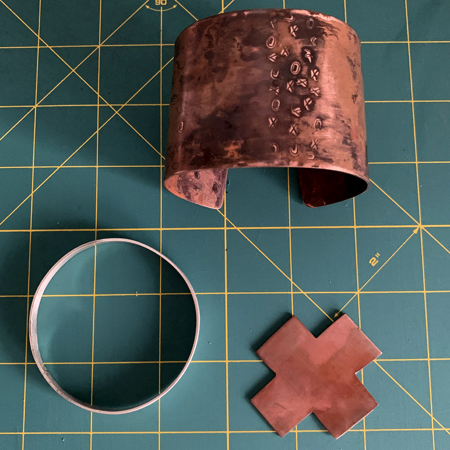 highly unlikely to wear the cuff, but it is nice to look at
xxx
Observations:
This was the first time this particular class had been run. There was way too much information to absorb in five hours and do All The Things. It was quite fast-paced, so there wasn't a a great deal of time to develop technique or finish off pieces (I probably should have chosen a shape to cut that was not a cross!) or troubleshoot. There wasn't a whole lot of time left for the silver bangle – which was intended as the hero of the class.
The positive energy from group-crafting which I've become accustomed to wasn't really there. Everyone was very nice, but it was a much more subdued, introverted group. This wasn't at all bad, I just like my crafty classes a little more vibey.
xxx
So, would I take another silver jewellery class?!
Possibly not. But maybe that is the fatigue talking!
2848 days