I had my hair cut very short in June 2011 and I adored it for many years! So simple and easy and cute!
Alas, what was kicky and sporty in my mid-40s started to become kind of ageing in my late-40s and I really felt like I needed a change.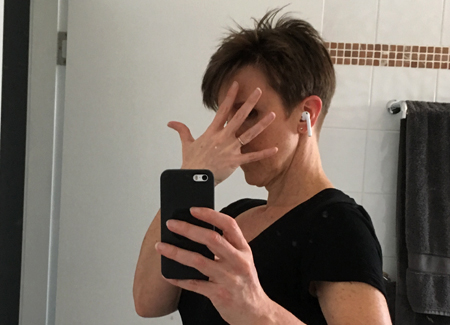 nov 2017
At the year one update, I could squeeze it into a tiny bun.
At the almost year-two update I can squeeze it into a larger, messier bun – which is pretty much how I wear it day to day. It is absolutely dead-straight, somewhat ratty and rather in need of attention – a trim, a style, a something. I haven't had it cut for two years, save for some trimming of the back in the early days of growing out.
I took these photos a couple of weeks ago after pulling it from the usual bun because I was delighted by the bounce – which lasted about 20 minutes before it was straighter than straight again.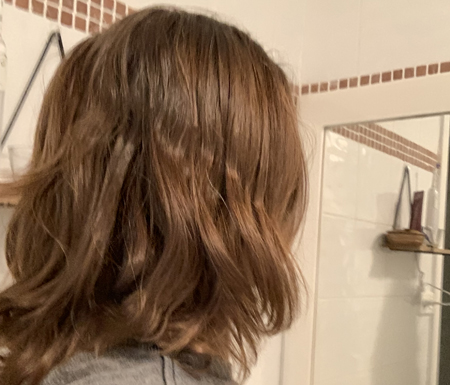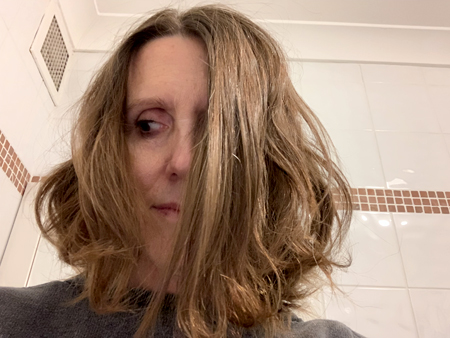 i wish for this much volume!
The length is having the desired effect though, even Joe/Frank (never one to notice such things) commented that I look younger with hair.
I think this is the longest it has been for around 17 years – even before I went super-short it usually didn't reach my shoulders. Before that, I think I might have been pregnant with Joan?
Onward to year 3!
Then perhaps a review.
2998 days.