Of course the $60 did not magically appear back into my account, so that's a $60 lesson in paying greater attention to what I'm doing. Whether this works in the long term remains to be seen.
This evening I magically completed the guardian quick crossword in an unprecedented 40(ish) minutes (without recourse to any reference materials – House Rule). So the brain still works a somewhat when I'm focussed.
I need more of this focus. SML is really scattered, Bobs is unstructured and all over the place, we're at a critical project juncture, I'm juggling three different roles (four next week), and resolving Joe/Frank's NDIS funding review – none of which really helps matters.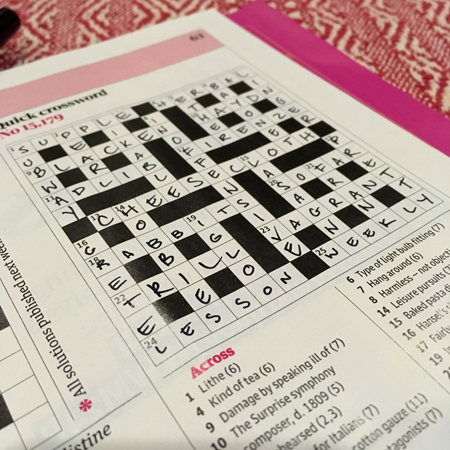 I really like quick crosswords, but I've barely looked at one for years. I think perhaps I put a little too much pressure on myself to learn how to solve a cryptic. And by getting it into my head that anything less than a cryptic was Intellectually Inferior and not worth the time.
Yes indeed, I'm an utter idiot sometimes.