Oftentimes, particularly after a few days of annual leave, I wonder what the hell I am doing at the Marie Celeste. Particularly when I arrive to find an email like this from our GM, The Fembot:

The humanity!
I thought it prudent to make the text an image, so it is not searchable. Paranoid, much?
Fenton jetted off to San Jose yesterday. For once, I am actually envious of this trip, as is Nancy. For we are madly keen on the Tales of the City1 novels by Armistead Maupin, and would have spent vast amounts of time checking out the haunts of Michael, Mona, Maryanne, Mrs Madrigal et al. But alas, my dentist is enjoying the fruits of my wage-slavery.
A red-letter day in the Hardly household on Sunday, as Bess finally completed her first knitting project (with a little assistance from mummy who knitted a sizeable portion of the endless, well endless to a 9 year old, grey part). This is terribly exciting as Nancy has no interest in crafts and I despaired that I would have no-one to share my m4d cr4ft1ng sk1||z with.
Behold, the scarf: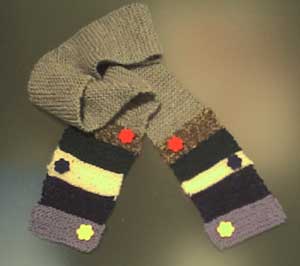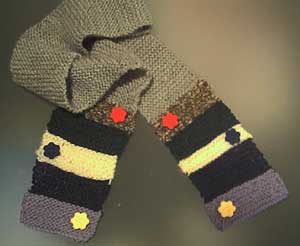 The flowers are cunningly placed to disguise some, errr, construction errors.
Now off to read the blogs I missed during my absence from the computer!
1and in searching for that link, I find there is actually a tour. Fabulous!