First day in the sparkly new office today. So new that building works are still going on all around us.
As a celebratory gift, we received an umbrella with the new Marie Celeste logo and possibly the ugliest backpack ever (also with logo). Now I have umbrellas and bags from my last 3 employers (call me fussy, but I'd rather the giftage Fenton's compani hands out).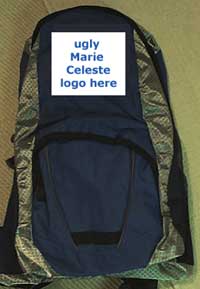 It's not very evident from the very ordinary image, but the silvery bits are a kind of faux-snakeskin – classy.
I have an interesting new workspace, if I stretch my arms out I can touch both walls of my cubicle at once. No, I don't have abnormally long arms.