As I ponder what the heck I should do with my template (although it doesn't look half so eye-pokingly bad when not viewed on Fenton's laptop screen), I'll share part of my old banner – taken from a vintage McCalls dress pattern cover…
Yes that's right, if you're fat – this dress is not for you. Apparently there are a ton of vintage patterns out there labelled in this manner!
For a long time I thought that McCalls was the only politically incorrect pattern-maker out there, but oh how wrong I was!!
Simplicity were in on the act too – as I found out 5 minutes ago when I picked up a vintage pattern (circa 1966) I purchased on Thursday (not that I have actually used a pattern to sew with in the last 12 years) …

Girls' and Chubbies' ???????
And Look! They've used some of the cast of Village of the Damned as models!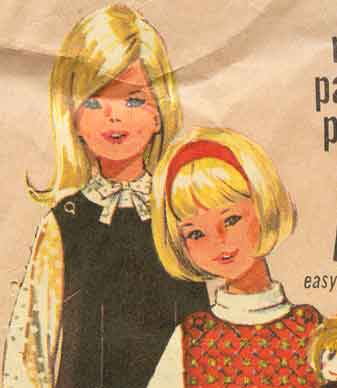 Of course now I am on a quest for Butterick and Vogue patterns1 of a similar era for their take on fat kids.
1who knew that McCalls owned them both now?? I've been out of the sewing loop for way too long.