All that stuff you're thinking and saying about not wanting to go back to your less than super-fantastic pre-covid ways of living?
I'm here from the Future to tell you that unless you are extremely vigilant, that is exactly what will happen!
We're pretty much back to normal here.
+ This cold is in the final throes, but proving quite difficult to shake.
+ I spent four days in the office last week, arriving home exhausted around 7pm each evening.
+ It is cold and dark when I arrive home.
+ We've given up our lovely morning walks for now (see aforesaid sickness).
+ I'm not sufficiently hydrating or exercising or reading or doing much of anything.
+ I am developing two cold sores.
+ Ugh.
♥
I tossed a coin this morning to see if I should head out to the incognito art show.
Exec summary: established and emerging artists submitted 3 postcard-sized works each and their identities were kept hidden. There were just over 1500 works in total, all $100 each and you could buy a max of three works. All proceeds to a charity supporting artists with an intellectual disability.
Coin said no, I chose to ignore coin.
And so it was that I joined the end of a quite enormous queue at around 8:30 this morning. And there I stayed along for four and a half hours, before pulling up stumps.

just as many people ahead of us around the corner – at the tiny blue square under the yellow arrow
You'd think this would be an utterly terrible experience, but I actually had a really pleasant time – even if I eventually came away with nothing.
The day was beautiful and sparkling, though quite cold early on. The vibe was positive and very friendly. I had lovely (and lengthy) chats with complete strangers. Most un-Sydney like indeed.
But at 1pm there was still an estimated 1.5-2 hours wait and I was confident my preferred pieces would be long gone.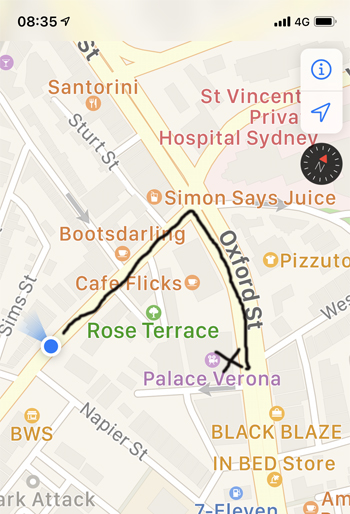 a mere 6-7 hours to get to the destination
So I bid my new crew adieu and legged it home.
♥
I suspect my enjoyment of this outing really means I need to get out and about more. Expand outward (a bit) after being so inwardly focussed for the last year – more than the last year if I'm honest.
I'm intending to build on this and stretch a little into something other than the routine each weekend in June – health permitting of course!