Groceries arrived as expected – hurrah! Though I think I need to provide some sort of large containment receptacle – slight disarray on the doorstep.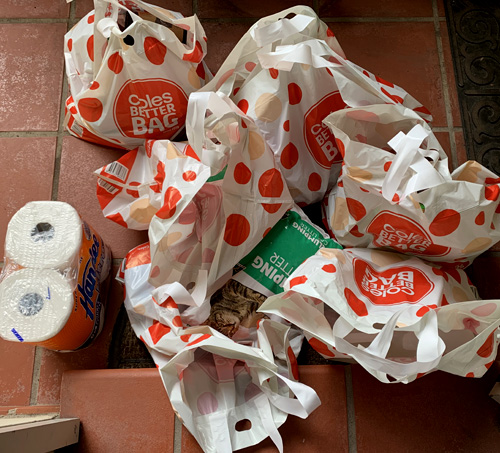 as delivered
What is awful is that everything arrived in plastic bags. Sure they might be made from 80% recycled plastic, but they are still plastic! We'll use them for the next delivery of decluttering to the charity shop.
Bessie tells me she gets her deliveries in paper bags from the other half of our supermarket duopoly, so I'll be giving them a try next shop.
It was only $9.00 for delivery for a 2 hour window (there are cheaper options for longer windows), but my first shop was free. Very good value for not having to brave the hordes!
Apart from the plastic – quite a good experience – will definitely repeat.
xxx
One of the dreadful things about having a reasonably high level of fitness is that when you stop doing any exercise, you kind of coast on the previous work for a very long time and maintain the delusion that you are a healthy person.
And so it came to be that I've done not-a-lot for probably two years and it is only now that I'm really feeling the consequences.
So in addition to putting my legs up (though a bit less frequently than hourly), I forced myself onto the exercise bike for 15 minutes yesterday. I was completely and utterly knackered for a very long time afterward and I wasn't even going particularly hard.
Got back in the saddle today and gosh – it's going to be a journey!