Spring isn't messing about this year – boom! Blossom, new growth and of course pollen and moulted cat hair everywhere.
And itching, so much itching, puffy eyes and face, and more itching. I stole some of Don's antihistamines this morning. It's helping a little.
Interesting how you can develop these intolerances in middle-age – or maybe it's no longer spending my days in a sealed environmentally controlled box and being more exposed to fresh air?
xxx
Long time readers will be aware that the ThePalace(OfLove) has been leaking pretty much since we moved in – because this is possibly the dodgiest warehouse renovation in Sydney.
And just as one leak is expensively fixed, another issue will fill the gap [repeat, repeat, repeat]. Lately it it's been the drain which runs inside the cupboard in Bessie's old room. There's a breach in the pipe (due to the dodgy installation) which has caused part of the cupboard floor to rot away, the paint to peel from the walls and a whole bunch of damage to the carpet. The drain pipe is also way too small for the purpose, so the gutter occasionally overflows causing water to pour through the ceiling.
It's been getting worse lately, so we had our favourite plumbing co around to assess. This involved holes.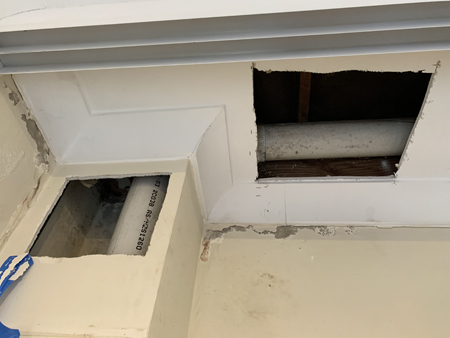 JuniorPlumber tried an interim fix (which worked – hurrah!), but had us believing we'd have to rebuild half ThePalace(OfLove) to properly remediate the issue. This caused us not a little anxiety.
BossPlumber came around the next day and was like – yeah nah, (still very expensive) X and Y should sort it. We had a builder mate of Don's boss come out the next day to quote on the rebuild, he recommended we go with BossPlumber's solution. Given Builder Mate was here anyway, we're having him quote on some other work around the place.
We decided a while back that we would prioritise holidays over home improvements. But now that travel is off the table for possibly years and years, and we're at home most of the time we've reassessed a bit. And it's probably sensible to get the big ticket fixes done now rather than when we have no money in retirement.
We'll be living in chaos for a bit, but hopefully will be able to hear rain at some point without it triggering panic.
xxx
I've written before of how I have this ridiculous predisposition to deprive myself of *things*, which is something I'd really like to work on.
But sometimes it is helpful to ban stuff. I completely stopped reading the news about three weeks ago and the impact on my stress levels and mental health generally has been pretty dramatic.
I now let other people be bringers of news to me, so when they say for example, "have you heard X?" rather than my former "Yes! And let me tell you additional information about X because I am so plugged in!", I'm more "No! I haven't! Tell me about it", which lets both them and me feel good.
You should try it – even for a little bit.
xxx
In this same depriving myself of *stuff* vein, I banned myself from chocolate a couple of months ago because my clothes were becoming uncomfortably tight and I was feeling leaden and flat. Yes, banning food is indeed the antithesis of intuitive eating.
After sitting with the ban for a while, I realised the chocolate wasn't the problem. My nightly habit of eating something for dessert when I wasn't at all hungry was the problem. I stopped. It's made a huge difference.
Next I'd like to get away from this mindset of using food as a reward/treat – it's a hard day – have some biscuits! you've done a good/hard thing – have a cake! I mean these things don't actually need "rewards", do they? I may as well say: I'm alive – have a block of chocolate!
It sounds utterly loony, but I'm trying a short meditation as one alternative – quiet, calm time is pretty helpful. Some quiet time hand-sewing. Reading a couple of pages of a book. Sitting outside taking in the sky. I'm learning to make a proper cup of chai on the stove-top – delicious and calming.
If these things work as we ramp up to switching on Project Sulfur at the end of the month, they will work in all manner of other highly charged situations!