Like most of you, I'm at working at home now and my whole working wardrobe has gone to the next level of comfort! We have a casual work policy at SML which is utterly wonderful, but wearing shorts and tracksuit pants around the house for work is a whole extra step of wonderful.
I have two excellent pairs of lounging pants from my beloved muji but that's the extent of my super-comfortable, around-ThePalace pants. Because we're heading into winter I wanted some additional options but I'm on day 150 (woo!) of the clothes buying ban and I'm very motivated not to break that. Instead I thought I could give making pants a bash. No-one but Don and Joe/Frank are likely to see them, so the stakes are pretty low. Plus I get to mess about in the not-craft-room and problem-solve.
I have quite a lot of lengths of flannelette (called flannel in Northern Hemisphere?) kicking about from a long abandoned project to make cuddly patchwork quilts for Bessie and Joe/Frank. After several years we decided the quilts weren't going to happen and it all sat there waiting either to be donated or turned into something. I picked vibrant red for my first effort, because what's not to love about red pants?
This pattern has been sitting around unopened for about 15 years and I figured it was pretty good as a starting point. I had a few other pairs of pants that I could use for reference, so I wasn't going to stick too rigidly to the pieces.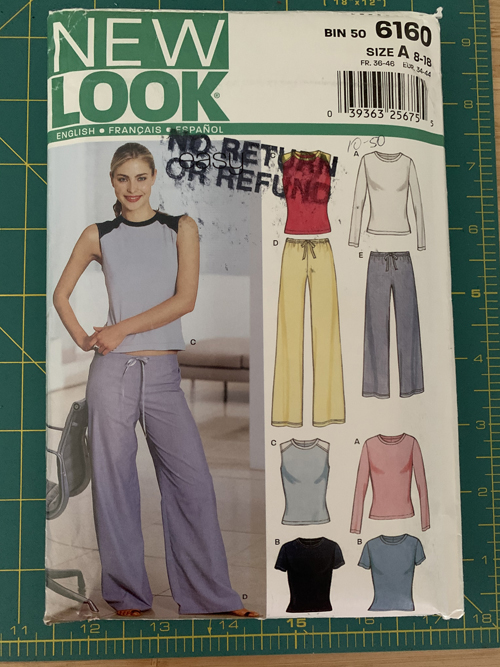 HolyGoodness! Did we really wear out pants so low on the hips back then? Don't answer, I know we did. I hope that trend never returns!
Because I wanted very high-waisted, very baggy pants, I traced out the size 18 and added about 10cm at the lengthening line between the waist and crotch. I could have cut out the actual pattern pieces, but I have quite a lot of tracing paper and figured it was easier to make adjustments on the tracing. I planned to add least one pleat at the front, to add a waist band and of course in-seam pockets!
As I mentioned in the last post, this was my first attempt at this type of pocket. The pattern didn't have one, but I traced out a giant pocket pattern from a favourite pair of baggy pants I bought on my last trip to Japan.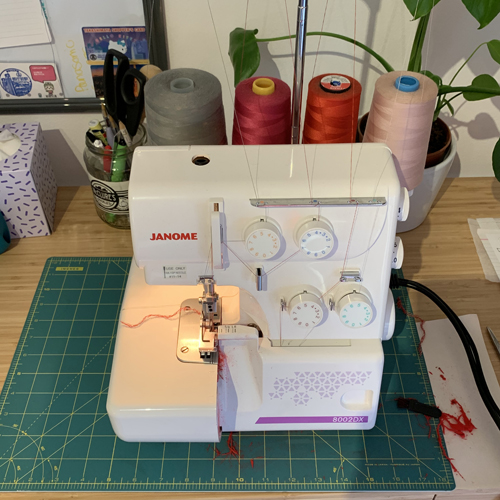 I also dragged out the little-used overlocker because I want to learn how to use it properly and really practice is the only way to do that! I bought the cones of thread at reverse garbage for around $1.00 each a few years ago to use as basting / tacking thread. I only have matching cones of white and black that came with the overlocker and I thought the colour mix might blend a bit better – surprisingly it did!
I overlocked around all the pattern pieces before I sewed them together, which I probably shouldn't have done with the pockets as they turned out a little hacked up and messy, and didn't quite line up, which was not pleasing. Fortunately no-one (except you all) is going to see them so I'm being gentle with myself!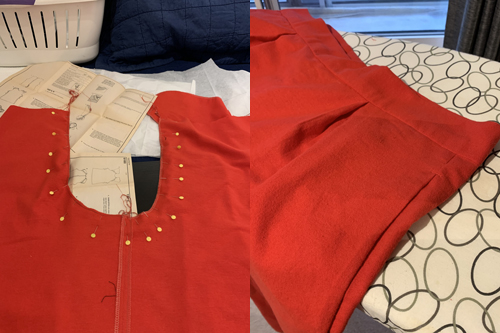 progress shots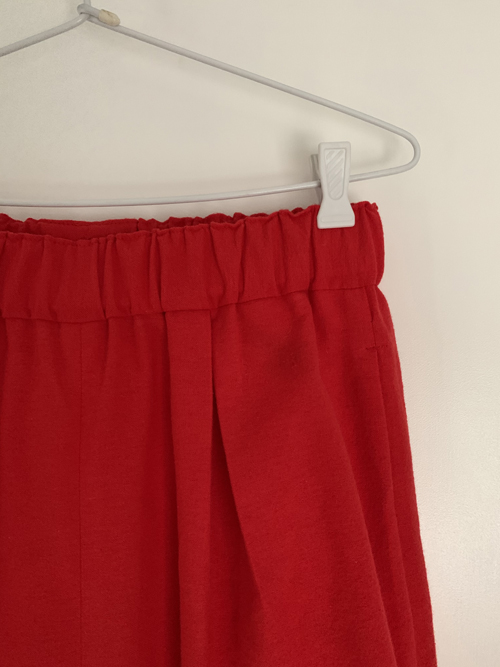 quite happy with the pleats!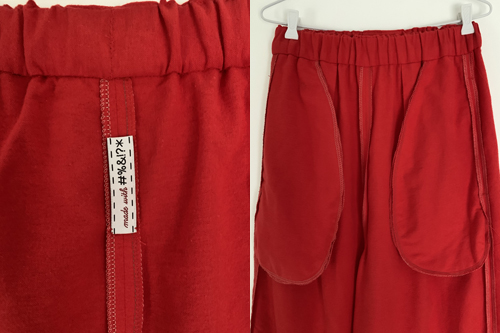 inside – pocket curves are a bit of a mess – need practice
All up, it took a couple of days – mostly because I was half-designing as I went and because I was trying to get handle on the overlocker. Getting a handle on the overlocker is going to take time and patience – some of my long-term default sewing machine behaviours need adjustment.
Less babble, more reveal …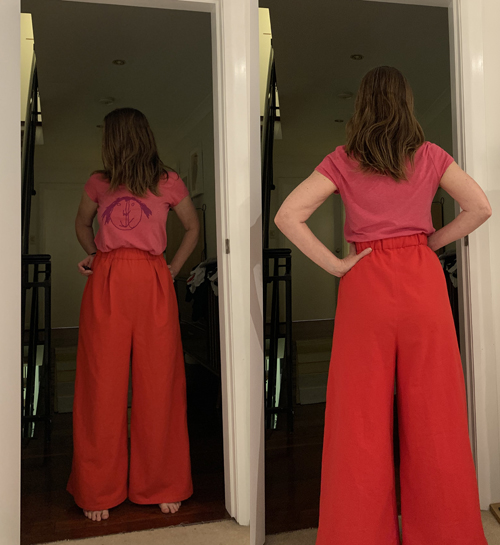 clashy!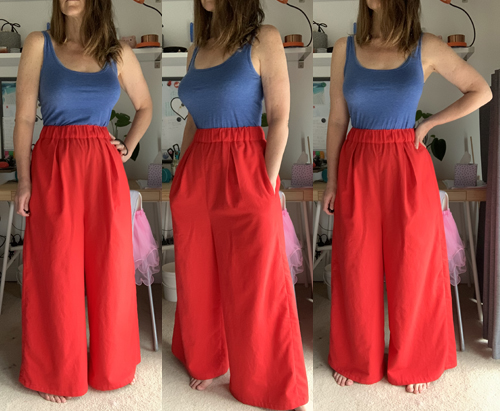 with arms straight down, my hands reach to the bottom of the pockets
They are a little higher in the waist than I'd intended, and the crotch is about 2cm more dropped than I'd planned, but I'm overall pretty pleased with this first effort!
And to my extreme delight they are VERY VERY comfortable.
I have a ton more flannelette, so I'll have another attempt with those modifications – I want them rather wider so I can add more pleats. I'm also planning a long(ish) pleated flannelette skirt with an elastic waist and more giant pockets.
All this does kind of make me realise that ruthless minimalist decluttering may not be exactly the thing I should be going for!