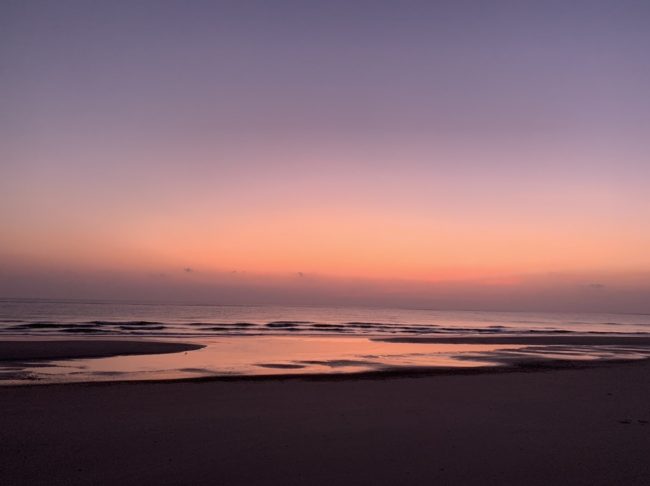 Holiday routine:
5:50am – wake, dress, go to beach, take approximately 80 billion photos of sunrise
6:30am – first breakfast: coffee, mini bircher muesli, muffin
6:45am-7:00am (depending when Don leaves for golf) – solo walk on beach
7:40am – squeeze self into yoga clothes, run to yoga because I'm invariably back later from the beach walk than planned
8:00am – yoga
9:10am – second breakfast: 2x coffee, fruit, another muffin
10:15am – back to room, shower, put on cossies, apply sunscreen
10:45am – laze by pool or by beach, read, sew, listen to audiobook, people-watch
12:30pm – Don back from golf, watch him eat lunch, more lazing about, swim in pool
2:00pm – massage (hence the no-lunch for me)
4:00pm – more swimming, more lazing, more reading
5:30pm – drinks in club (soda water for me!), people-watching, scrolling about on InformationSuperhighway
6:30pm – dinner, dessert (though there are many tempting options, I always go for mango sticky rice)
8:00pm – back to room, collapse in heap, asleep by 8:30
I will be very sad to leave all this behind!
xxx
Notes: I don't have a massage every day. Don does play golf almost every day. Sometimes I do have lunch – mostly not though.
xxx
2926 days