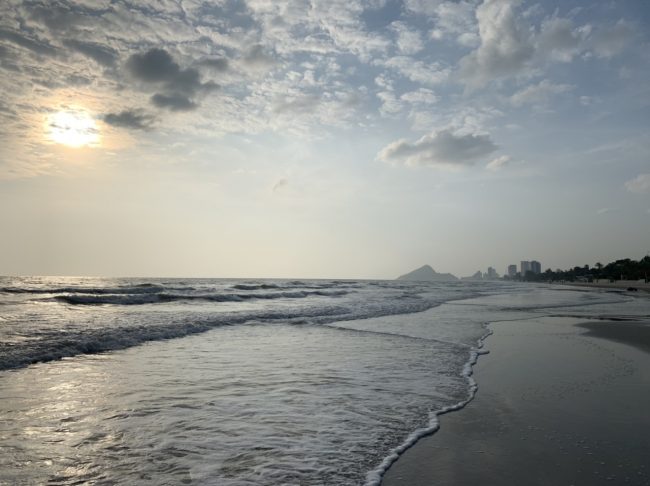 One of the things I love about resorty-style holidays is the people watching. You tend to be in fairly close quarters to the same people for an extended period and everything is ripe for observation and analysis. We have a delightful time inventing names and backstories for the most interesting characters.
Our favourites so far in this trip have been Bangkok Dave and Gloria. We spotted Gloria at lunch on our first day. She was an impossibly elegant Asian woman around my age (Don thinks perhaps slightly older) – figure to die for, bikini covered by long lacy kaftan. She was absolutely stunning and made us despair of our respective slumpy postures and lack of style.
We saw her again at drinks that evening, she was wearing a gorgeous long floaty dress of white and blues, belted at the waist – really simple, very chic. We imagined her to be the wife of some equally glamorous, polished, devastatingly handsome husband.
Imagine our surprise to discover that her husband was a short, loud, badly dressed, average looking, middle-aged American fellow. Dave was wearing camo cargo shorts and baggy grey t-shirt. Dave was not stylish. Dave was not glamorous.
Dave complained that Gloria made him feel underdressed. Dave forced them move tables because he did not care for the contours of the chairs Gloria had chosen. Dave did not have Gloria's superb posture, Dave lazed about.
Don and I agreed that Gloria was definitely punching below her weight.
Of course we shamelessly eavesdropped on their conversation.
Dave: "You're more beautiful than most 20 year old girls, you're just not more beautiful than you were when you were 20".
Hmmm – we thought – maybe Gloria is a little high maintenance. Also, geez Dave.
The next morning I was up watching the sunrise (as is my newly-found habit). I noticed someone in my peripheral vision taking photos with a giant DSLR, but didn't pay much overly much attention, being focussed on beauty and wonder – and taking photographs of my own.
Later DSLR person came up beside me, I assumed to access the beach because I was sitting next to the beach stairs. But no! It was Bangkok Dave, who showed me the photos he'd taken of me, silhouetted against the sunrise. Boundaries, Dave. He offered to email them to me, which some people might think quite creepy and weird.
We chatted a little and I found out they live in Bangkok and were here for the weekend (absolutely not what I had expected) and that his family could not be tempted to get out of bed and watch sunrises. Gloria, you disappoint me.
Sadly they returned to Bangkok later that day, so that was the end of the enviable outfits and quality spying.
2927 days