We received a company-wide email during the week advising us that SML had joined the not business as usual alliance**and was supporting the climate strike today. We were encouraged to take the time off to join the rally.
The gesture was surprising and appreciated – even though I didn't take advantage of it because I'd already booked the day off to do this (amongst other things) with Bessie.
We turned up at The Domain at lunchtime with about 80,000 others! Amazing turnout!
None of the photos I took really showed the scale of it – so I nicked this one from The Guardian who nicked it from twitter: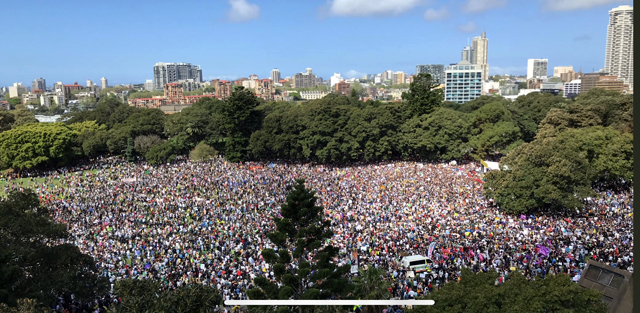 twitter user: @kymtje
A++ would protest again.
xxx
** I do take some (okay, quite a bit of) issue with the idea that "it's not up to the private sector to lead climate action".
Surely it is up to everyone?
And surely the private sector is responsible for a good deal of the problems we're facing?
2989 days.