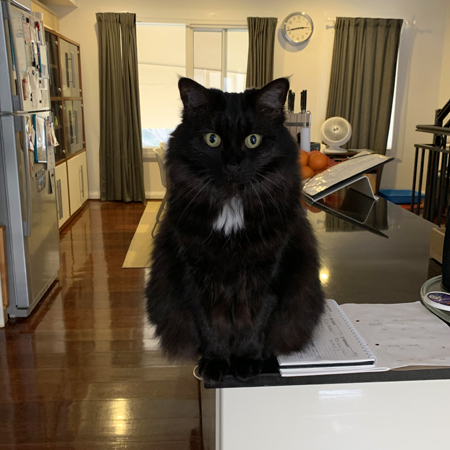 what a naughty adorable poppet (<3 that phone camera!)
Momentary appearance from my not-literal sick bed** to reflect on those soft-core July intentions.
Given that I was unwell for half the month (just as recovery is in my sights, I'm struck down again – it is Very Tiresome and has happened twice now) and that I was aiming for chill, I did reasonably well.
Though if I'm honest I forgot about half of these – I'll carry them over into August – along with GET HEALTHY!
+ get out in nature minimum 3x per week
NOPE! The weather has been spectacular and I did get out for a few excellent lunchtime walks, but not with the frequency I'd hoped. Illness did rather put paid to that toward the end of the month.
+ endless embroidery: complete year 13 | frame it!
YES! It's hanging on the wall next to the bed and I'm delighted by it.
+ knit one row of jumper per day
Started, knit 5 rows of pattern, stopped, repaired cable crossing wrong way. Stopped again.
Realised that pattern is not entirely the same as the photograph – the pattern has the diamonds starting at the point after the ribbing, the photograph mid way. I prefer the photograph. Other than that, I'm finding the pattern in quite challenging in other ways (outlined here). I've a mind to write it out as I would prefer to knit it – that would probably be good for my brain.
+ sit for 2-5 minutes each day and write Japanese notes
NOPE! I absolutely will get back to this.
+ one night per week without internet
NOPE! Though I have had some nights where I've sat quietly and read a book, it's not been in any formal, structured way.
xxx
** I have lost the whole zen "this enforced rest is a gift! what an excellent time to relax and reflect!" and now am somewhat (a lot!) grumpy and slightly champing at the bit to get moving about.