Last night was the first in an age where I've slept reasonably well and have not woken multiple times by: thirst (I often get through 3-4 x 700ml bottles of water a night); needing to go to the bathroom (see aforementioned water); being too hot (hot flushes begone); freezing (air-conditioner); or by nightmares (who knows?). This is pretty exciting. Hopefully autumn
Today mostly involved Palace(OfLove) Admin – grocery shopping, bathroom cleaning, laundry … stuff. I rode 10km on the exercise bike (run rate now ~$22.00 per ride). I listened to an audiobook (Christmas Hirelings – freebie from audible, Victorian, sentimental). I finished reading anyresemblance's archives.
We finally admitted defeat and packed away Bessie's fiendish Xmas puzzle.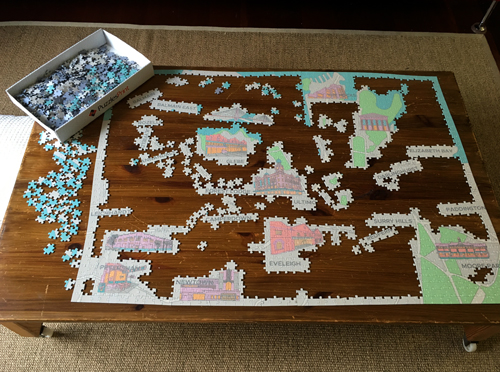 It had been sitting incomplete on that table with a blanket over it since early in the New Year. I had super-good intentions last week of perhaps adding a piece or two each evening rather than collapsing in a heap on the couch mindlessly scrolling on my ipad or staring exhaustedly into middle-distance, but alas this didn't really eventuate. SML has been gruelling (a post for another time), I'm barely coherent when I arrive home.
This evening, as part of my attempt to get more creativity in my life, I'm planning to cast on the love and kisses cowl in rowan brushed fleece in the hush shade.** I bought this yarn a couple of weeks ago in a now rare lunchtime outing – at the moment it is all I can do to grab coffee and fruit at lunch. I don't consider the yarn personal spending as I have quite a bit of credit at Morris and Sons – they're very good about taking back unused balls at full price and last year I de-cluttered about $80 worth of aspirational yarn.
In other crafty endeavours, I've been working at least 10 stitches a day on the endless embroidery. I've just commenced year eight – there is some way to go.
Tomorrow I need to make a plan to tackle some outstanding worky-work, pack a care package for Joan, hang a large photograph and get stuck into a rather large ironing pile. Oh and dye my eyebrows. And vacuum the stairs.
I think I will find it helpful to exercise some control over my environment in small ways where I can!
xxx
** I cast on 160 stitches in the round and knit first row – only to find I'd knitted 161. Ripped back.