I had no intention of doing anything other than cutting up this pineapple for snacking, but the label absolutely compelled me to make my first ever ham (okay, prosciutto) and pineapple pizza.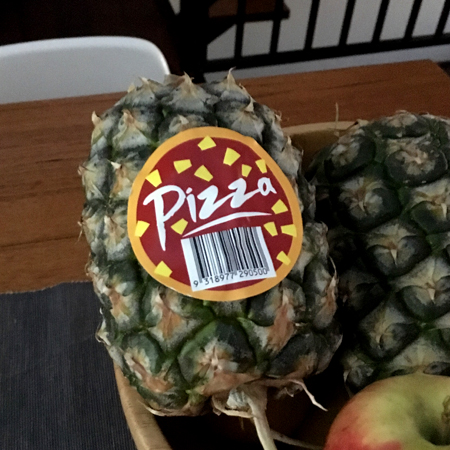 A++ would eat again. As would Joe/Frank and Bessie. Don did not partake as he considers pineapple on pizza is an abomination. Such a luddite.
xxx
The Nod podcast is really great! This episode is delightful! This one is fascinating! You should go listen!
xxx
These articles of interest episodes of the 99% invisible podcast are also wonderful. Recommend pockets and blue jeans. You should listen to them too!
xxx
And this article (Who killed the weekend?) inspired me to track down the book (currently on reserve at the Library). I'm not calling it self-help – despite all signs to the contrary!