My weekends of late have consisted of laundry, ironing in front of comforting television, occasional mending and a bit of light housework. I have come to find ironing really soothing, I'll often iron things that don't really need ironing. I don't even know who I am anymore.
I've set myself one goal for the weekend – that's to remake this dress from an off-cut I bought from the fabric store just over a year ago.
I actually thought it was much older, but consulted the photographic evidence that I'd meant to post but never got around to – my hard drive is full of such things.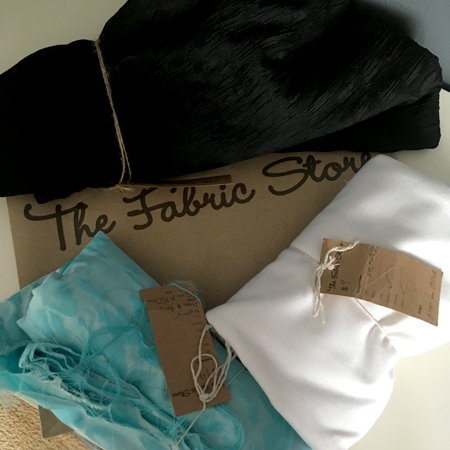 I'm using the black piece at the top. It has quite a nice texture and think cost around $20. I love off-cuts. No idea what I'll do with those other pieces, but if this is successful I'll put my mind to those. Need to overcome my ridiculous sewing fear and get my creative mojo back. I quite like this top from the same source as the dress. I'm very into simple shapes and crumpled textures right now. Ironic loving the crumples while having a love for the ironing.
If it all works out, I plan to wear it to SML on Monday.
I'm planning to recreate the dress with small mods – side splits rather than back and will add pockets because everything is better with pockets.
Steps:
01. measure dimensions of existing dress
02. cut fabric (add seam allowances)
03. test sewing machine tension on fabric scrap
04. test overlock tension on fabric scrap
05. overlock around front and back
06. press
07. sew neckline and shoulder seams
08. press
09. try on, mark pocket placement, mark elastic casing placement, mark side splits
10. press
11. sew pockets
12. press
13. sew elastic casing
14. press
15. sew side-seams and splits
16. press
17. insert elastic
18. sew hems
19. press
20. fin
I have a slightly nervous feeling because I can't recall if I pre-washed the fabric. I usually do this as a matter of course shortly after purchase, do I take the risk? For the non-sewists, risk is that it will shrink / distort after the first wash – rendering all that hard work worthless.
edited to add: I've just thrown it in the wash – best to be cautious.