First day back at SML started (and continued) with a quite ghastly headache. I suspect this was the result of very early yoga without coffee beforehand. Then I failed to become adequately caffeinated in the early part of the day to cast it off. Note to self: probably not quite so many cups while on holiday.
Despite wavering a little because of the head, I held fast to my 2019 intentions. YAY!
I took the keep cup out with me in search of my lunchtime macchiato fix, but discovered all of the decent nearby cafes don't reopen until next week or the week after. Rather than settle for bad coffee, I did what any sane person would do and walked a very long way to find a decent one. It seemed ridiculous to carry that teensy coffee cup (either full or empty with dregs) back to SML, but I was reluctant to go for the disposable cup and break my intention on day 2. What to do? Any normal person would have immediately have decided to drink their coffee as a sit-down, but this took me an embarrassingly long time to figure out. Once decided, it felt marvellously decadent.
After dinner that evening my head was still hurting so much I had a hard time convincing myself not to scoff the chocolate I remembered was in the cupboard from Phil's visit back in March. "My head hurts, I can start this tomorrow, just this one (large) block of chocolate won't matter…" – the usual kind of stuff you say to yourself when you're trying to quit something. Fortunately Don reminded me of this and I went to bed instead.
Today a small residual headache, but quickly dispatched with coffee and drugs. Emboldened by yesterday's coffee, I decided to go out and sit down for lunch rather than eating at my desk!
Ever the radical adventurer!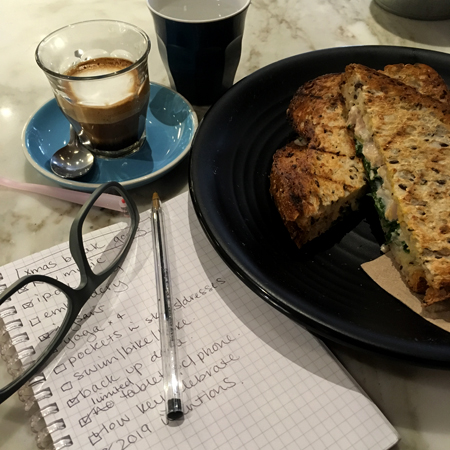 I think this could be the first time I've ever lunched in a cafe alone!
I sat with my notebook and reflected on the results of my plans for the Xmas / New Year break and read a couple of bits and pieces here and there.
Rather a shame the sandwich was quite underwhelming.
I will totally repeat this experience!
(Obviously I have a not inconsiderable amount of baggage about all manner of things!)
xxx
And in spending reduction:
Items considered**, but not purchased:
+ Breville coffee grinder: $40
+ Vintage polka-dot palazzo pants: $95
** as they were in my hand and I was on the way to the cash register, rather than just idly thinking they would be nice to own.