The cold, overcast morning developed into a spectacularly gorgeous day after we ventured out to Sculpture by the Sea.
Everything had developed an awesome patina after being out in the rain for a week.
Now you may enjoy some things we enjoyed: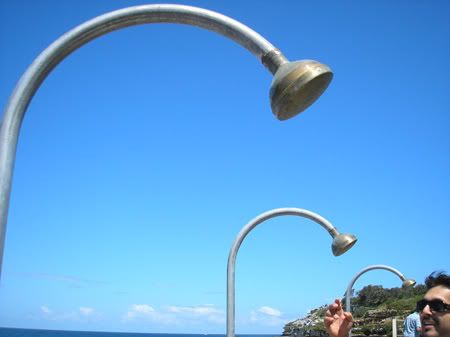 recommisioned Jesse Cox
($8,000)
These had different talk radio-style sounds emanating from each of them. It was quite trippy.

conduit to a vanishing point Andy Townsend
($9,900)
We didn't queue to stick our heads in the box, but there was apparently a lilliputian world inside. I just rather liked the image of the people queueing to climb a wee ladder and stick their heads in a box.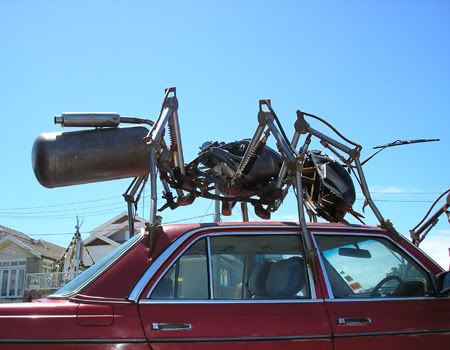 carcutter Dillion McEwan
(POA)
I voted for this in "people's choice". Awesome giant ants devouring a volvo. Best line of the day was a pretentious woman who exclaimed, "they are literally tearing the car apart!". You had to be there, I guess.

where have i gone wrong Ludwig Mlcek
($5,900)
I like the work and am really pleased with the photo.

deep sea angler fish Robert Juniper
($66,000)
I have to admit that this was one of my faves. I do so love a stylised fish.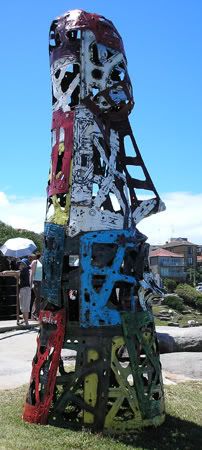 ran out of wood Daniel Clemmett
($9,000)
Took me ages to work out what this was until Don showed me the catalogue. Rather adore it, but then I really dig Easter Island heads.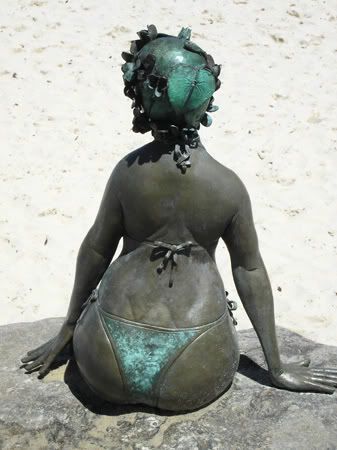 bella Greg James
($40,000)
Nancy could so easily have modelled for this – totally her body shape.

arboretum Marguerite Derricourt
($15,000)
I simply love the word arboretum, and I love this work. The first (but not the last) time in the day I asked Don, "Could we not cancel the trip to italy and buy sculpture instead?"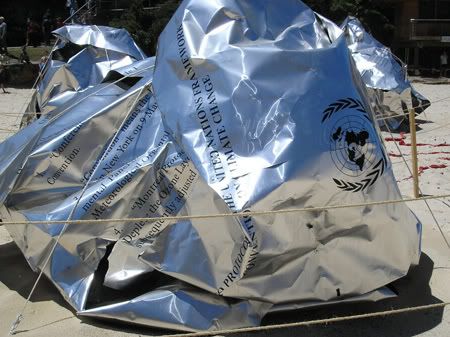 formal rags Joachim can den Hurk
($15,000 each)
This had us in hysterics with the earnestness and obvious statementness of it all. Of course it is the Kyoto Protocol all crumpled and discarded1! There were umbilical cords in there too. Sometimes (often) artists just make me laugh. I bet he introduces himself with an, "I am called Joachim".

where they fell Melissa Dax
($9,500)
Giant Pick-Up-Sticks = awesome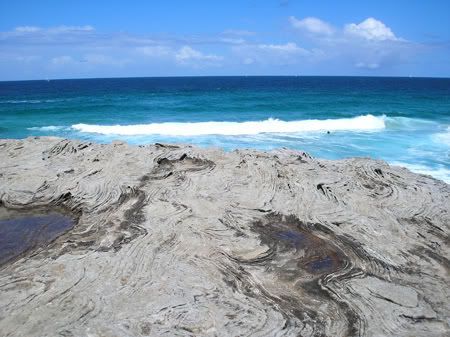 Sometimes nature can do just as good a job.

I think everyone in Sydney had the same idea as us.

It was a rather spectacular day.
Second best remark of the day:
Rather large (enormous), squatting nude male in fibreglass (unshown because camera ran out of battery). Small, obviously Eastern Suburbs, child (about 8 years old) sits between sculptured legs to be photographed by his mother. Child looks up, grinning, at giant penis. We laugh. Mother asks (after photograph is taken), "what were you doing?" Eastern Suburbs child responds, "having a shower!".
And a rather nice day was had by all.
1Now before you all go hating on me, I think signing the Kyoto Protocol is as important as the next person (particularly if the next person is a dirty fucking hippy), but this was just funny.