Avoided the usual Friday after work drinks tonight, primarily because I am skint, but also because I really don't give a toss about hanging out at skeevy local to work pub and would much rather be snuggled up in the Don and Carol abode. The weather this week has been downright winters-ish and rains-ish1, which has been quite delightful (apart from having to take the bus in the mornings due to the rains-ish-ness) – which makes it rather nice for snuggling up on the couch with blanket, glass of wine and book.
In plans for The Holiday, damn zuji has charged Don's credit card twice for our airfares (we were going to book with Emirates, but there was a problem with the booking system on the day we booked). While it will be eventually sorted, it is not a little annoying (primarily because it maxes out the credit card and prevents booking anything else). Stupid Zuji. Lesson learned: book with the airline direct (even if their website isn't working, wait until the next business day).
Currently I'm loving listening to the Adventures of Inspector Maigret BBC radio play podcasts with my ipod hooked up to the most excellent stereogram.
I'm also loving this boat (photo of which was taken a wee while ago), the logo is totally Globex Corporation: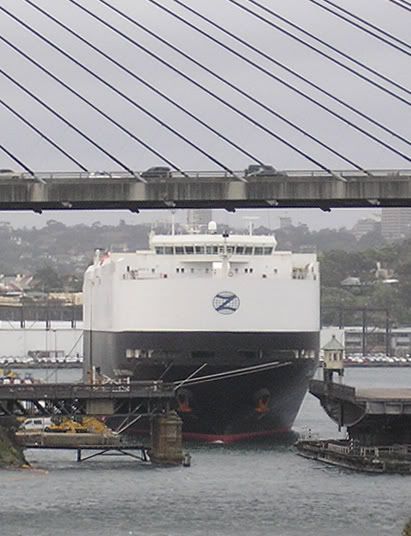 Still haven't visited Sculpture by the Sea – hopefully this weekend! I won't let another year pass me by! Hopefully there will be something intact after all the rain.
1Why yes, I have played a little too much katamari.