Although you'd never think so to look at my wardrobe, I've a bit of a reputation for being able to predict fashion trends a couple of seasons in advance (to about 85%). I've never blogged about it, because I am fully aware that if I do, the universe will jump in and ensure that I am totally and utterly wrong.
So when Nancy dragged herself out of bed at lunch time yesterday and sleepily asked, "Mummy, you know how you have this alleged gift for predicting fashion? What do you think will be fashionable in footwear for winter?", I replied "coloured boots"1 and went looking for a picture to illustrate what I meant.
That is when I ran across these: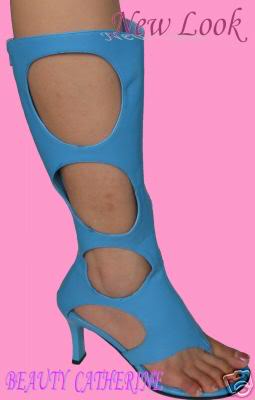 There are no words.
I can assure you that these are completely *not* what I was referring to by "coloured boots". But if you would like to add them to your wardrobe, you can bid on them here: horror boots
1After this admission, you will find that coloured boots are absolutely the least fashionable footwear getting about this winter.