Another week, another wad of cash to dishy-dentist. This wad was rather less than I had expected (but still approx. $900), so I am treating myself to whitening in 3 weeks (when I have the chance to amass some more of the ready) because after spending all of this money, I want them blindingly sparkly, godsdamnit.
My beloved Fenton returned home one week early (and there was much rejoicing).
Fenton endeared himself to me further by purchasing me this: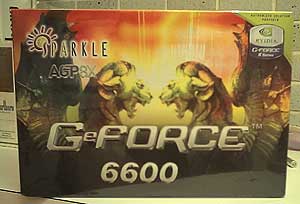 on Sunday from the lovelies at aus pc market. The card was delivered by Monday lunch-time (super-fast!) and is working a treat. Although the real test will be on Saturday when Joe/Frank and Bess attempt a 4 day tag-team Sims2 marathon. Yes, it's school holidays once again and once again I am dreading Joe/Frank's school holiday assignment (topic as yet unknown).