Sadly, Nancy is the type of adolescent who wakes at 10.00am on a Sunday and announces she has a quite complex assignment due the next day, for which she has done no planning or preparation. Usually this occurs when she has a 6+ hour shift at Krusty Burger on Sunday afternoon/evening.
This morning was no different. She has an English assignment due tomorrow. A visual representation of one of the works of Bruce Dawe and the wickedness of consumerism. I recall her teacher speaking to us about this assignment at the Parent/Teacher interview all those months ago, where she claimed collages would not be looked upon kindly, because she considered them a cop-out.
So after much shouting about how these things need to be done much sooner than the day before and the much workshopping, we arrived at the idea of a female torso wrapped in bandages with brand names plastered all over them and titling the piece "wrapped in consumerism". Super-lame, but just the kind of whacked out idea that her teacher would aprrove of.
But how to make a torso in a hurry?
I recalled that I had seen duct-tape dressforms somewhere in the long distant past, and a quick google put me right. Surely it couldn't be *that* hard?
After a quick trip to Woolies for duct tape and bandages (would you believe they do not stock bandages at Woolworths Potts Point? In desperation I grabbed a white sheet for ripping into bandages) we were ready to wrap!
Second step: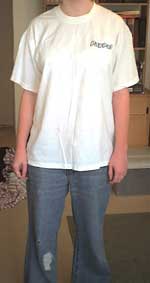 Nancy wears a paypal t-shirt, which I am more than happy to sacrifice.
Third step:
I begin to wrap Nancy in duct tape – much whinging ensues. Wrapping is rather problematic because the tape around her hips begins riding up around her waist. We decide to abandon the hips and go for the waist up.
The completed wrapping: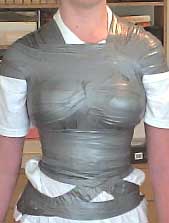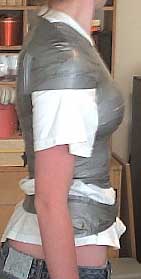 Fourth Step:
Cut off the form, by slicing all the way up the back, being careful not to cut her bra-strap.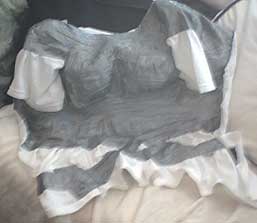 Fifth step:
Decide that discarded issues of MX from the recycling pile will make superior stuffing to polyfil (because I actually *have* the issues of MX)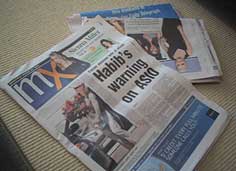 Sixth step:
Begin the long and arduous stuffing and wrapping. Discover that breasts are really difficult to stuff symmetrically. Be very glad of laziness of self and raid recycling pile for heavy cardboard to help support various areas.
Six and a halfth step:
Change CD: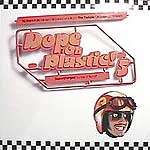 Repeat sixth step.
Seventh step:
The finished, rather lopsided, form: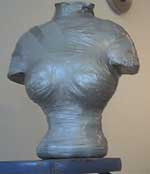 Eighth step:
Realise duct tape dressforms are ridiculously difficult to make and hope to the gods that it looks slightly more realistic when bandaged.
During this time Nancy is raiding issues of Cleo, Harpers Bazaar, Marie Clare and Shop Til You Drop for appropriate advertising to glue to the bandages.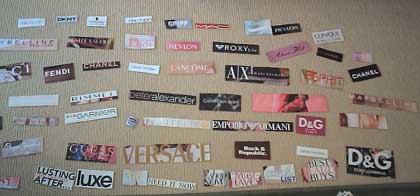 Next we move to bandage making (we're currently testing various adhesives).
Really, the fun never stops in the Hardly Haus.