Nancy is now braced, pink-braced (well, they have pink little bands around them) and is in not inconsiderable pain – so much yoghurt & other soft foods are being consumed.
I was forced to listen to Usher for over 2 hours while I sat in the dentist's waiting room yesterday afternoon – just when I thought it couldn't get any worse, another patient's mother started singing along. To avoid my ears bleeding/head exploding, I read the April Marie Claire from cover to cover.
I learned that there is a town in Florida called Celebration – it is a planned community designed (and formerly owned) by Disney. Can I just say "ewwwwwwww"? Apparently because Florida's climate doesn't show terribly much variation (well, except for the hurricanes), The Powers That Be organise fake snowfalls in winter and fake falling bio-degradable, recyclable leaves in autumn. All together now: "ewwwwwwwwwwwwwwww". And one must maintain one's abode to the standards set down by The Powers That Be or one will face their wrath, according to the article some residents were chastised for having christmas decorations that were too gaudy. Sounds just fab!
In other news, I am after a new phone – mine is cheap, crappy & has no ring tone volume control, thus causing great disturbance to the freaks at the Land of Freaks, Acronyms and Meetings when it rings. I'm madly coveting1 this phone. I'd feel like a spy on some covert operation!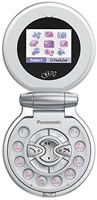 1 Well, I was coveting it until I saw the other pix – the pokey antenna really doesn't do it for me at all.