You may recall that I really dithered for a long while about what craft project to take with me on holiday. At the last minute I settled on sashiko because it didn't require a ton of equipment or effort.
I'd been wanting to try sashiko for an age and had to buy everything online because there are no stores within my immediate (or wider) radius that sell supplies. After an incredible amount of time trying to make a decision, I bought enough to give me a taste – stencilled fabric, white sashiko thread and a couple of types of needles.
I busted out the equipment on the second or third day while lazing by the beach.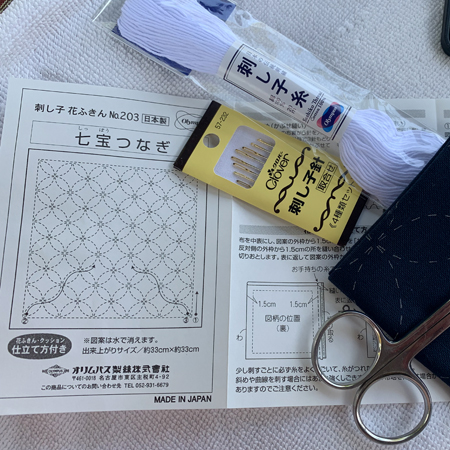 There was a slight disaster pulling thread from the skein.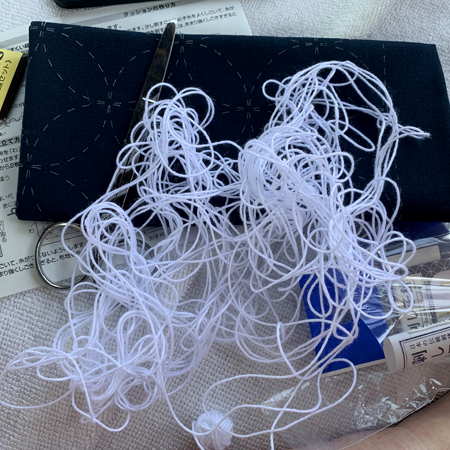 So I spent some time winding it into a little ball.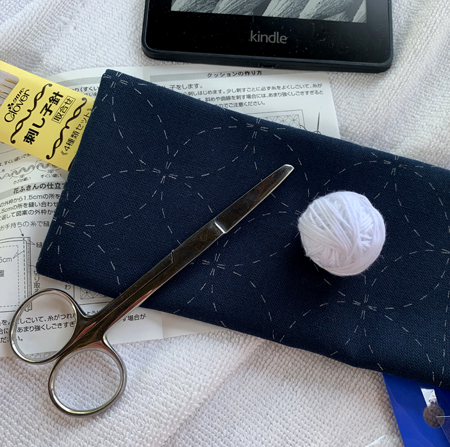 Fortunately I'd taken a couple of photos of sashiko directions from jessica marquez: make + mend before I returned it to the library. But even without them it was pretty straightforward.
Interestingly, with this pattern one does not stitch the actual circles, but the wavy lines that make up the circles. This is indicated by the arrows and numbers on the instructions.
At first I was bored, the stitching was pretty repetitious – probably the opposite of my wild and free endless embroidery project. I persisted because I was determined not to have yet another unfinished project.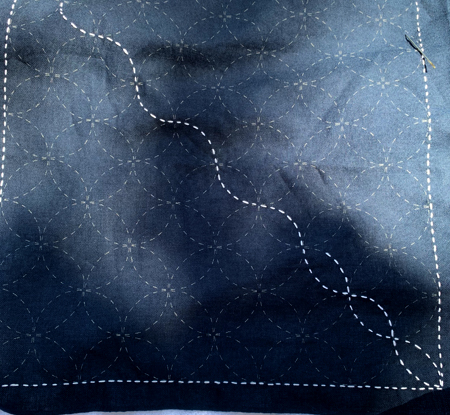 Around this point I started to really enjoy myself. So, so nice to sit by the pool, listen to an audiobook and stitch away. It all became very soothing and restful.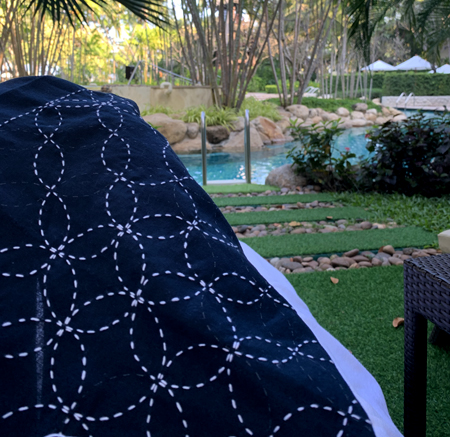 action shot
Can this be my permanent life please?
And after a couple of days … fin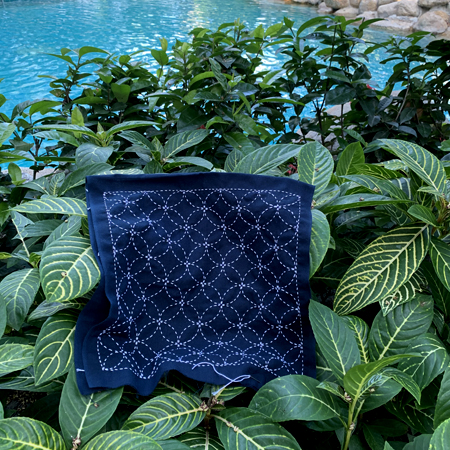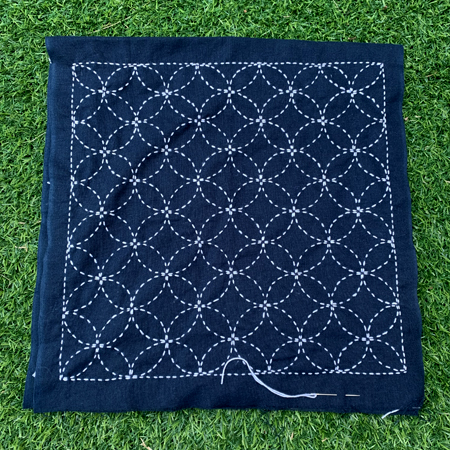 I still need to wash it to get the pattern out, and it needs finishing into … something, but I'm quite delighted with the result.
I found it so peaceful and lovely that I've bought four more kits. I have no idea what I'm going to do with any of them, but perhaps I can use them as mats under things? I would make a quilt, but I don't think that would go quite so well with the kitties – and we are far too grotty for fabric placemats!
Things for next time:
+ I would not use quilters knots – weaving in the ends looks more appealing.
+ Make + Mend recommended using thread conditioner/beeswax. I am totally going to try this as the thread got a little fluffy.
+ Possibly stitch through both layers of cloth (the fabric is rectangular with printing on one half). I kept it simple for the first attempt.
2907 days