The second instalment of my midlife crisis crafting project saw me at an art glass class today.
I've never had any compelling need to work in glass, but I saw this class on the sydney community college site and I was intrigued enough to sign up.
I adored it and had much more fun than I expected. The class was a diverse small group of 8, there was such a cheerful and positive energy and it was super-interesting to see everyone's design process and how they worked. I was chatting with a woman who drove up from the south coast to be there and we agreed that there is really something wonderful about undertaking creative pursuits in a group setting. My crafting has always tended to be exceptionally solo, so I really am keen to do more of this.
We were all pretty much novices and after an intro, we first learned to cut with glass cutters on (cheap) plain sheet glass. I could not resist arranging my bits in pretty patterns even though they were destined for the bin.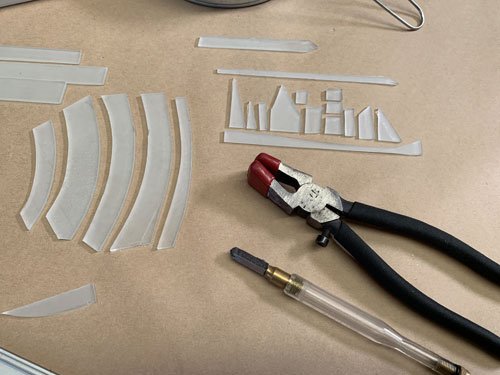 i kind of wish i had kept the little scene
After we were confident at cutting, it was onto the hideously expensive bullseye art glass. We were given a plain glass tile as a base, there were jars of glass dust, containers of tiny glass fragments, and there were drawers and drawers of small and medium-sized pieces of all colours to play with. We pretty much had complete freedom to design whatever we liked.
First we each made a couple of sushi plates. I stuck to pretty simple colour-field designs, but spent forever fiddling with the little bits.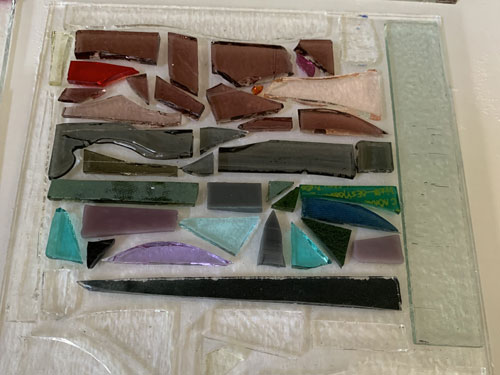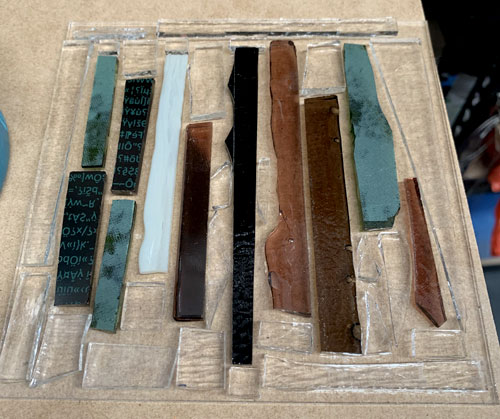 Once we were feeling fairly confident, we moved onto a larger platter. It took me a good while to first gather the bits from the various containers, then arrange them, and then glue them down (thank TheUniverse for a steady hand and a pair of tweezers!)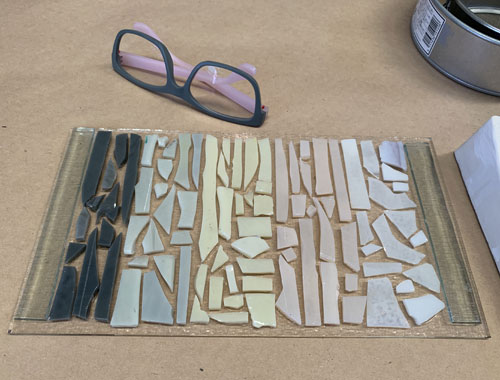 co-ordinating with my reading glasses
The firing will take around a week – hopefully they'll survive the process!
They'll get a little melty and slumpy in the kiln and I'm super keen to see how they turn out.
Still considering what the next class should be. I'm super keen to do resin, but the times aren't really working for me. Nor are the times for ceramics. Weaving?
2995 days.