Don and I spent a good deal of time on Saturday in a failed quest to fill the rather awkward recessed space in our living room, it is small and weird and currently contains some plastic tubs with towels in them – not the most attractive look.

The gap.
The contents of the space are a sad disappointment compared to the rest of the room:


Best piece of furniture ever.
Because we are all about the mid century modern, we've been on a search for a chest of drawers from that era to fill aforesaid icky gap/recess thing. Something not dissimilar to those pictured below (pix blatantly thieved from eBay) and for really not more than $300ish: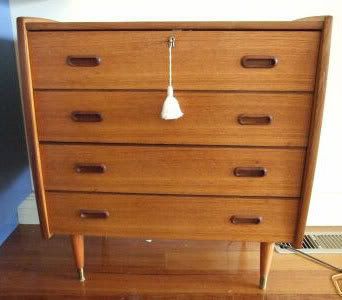 We did find one beautiful (and very expensive) set at 506070, very similar to this, in fact I would have said it was that exact one, but the measurements don't tally, the one we adored was 4cm too wide to fit in the space – argh!
Sadly all afforadable furniture of this type on eBay appears to live in Brisbane or Melbourne. Although while stealing images today, I did find a set of drawers that is rather nice and in Sydney, but that is currently $500 (urk!).
So the quest continues and I suspect I will end up paying more than my budget …