First, there was this lovely present from Harriet, which sat in my house, much admired, for some time. Then, it travelled to the office, where it sat on the cabinet in front of my desk, for my visitors to play with while they chatted to me.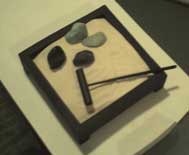 Slowly various things were added to the sand and rocks: a ladybug, small piggies, superman, a shark, a lobster, a masai tribeswoman.
Things were becoming somewhat crowded, and more sand found (contained within bags attached to very lame celebratory helium-filled baloons), and eventually things moved to a larger container.
More things were added: many plastic soldiers, a monkey, a mermaid, cocktail umbrellas and dinosaurs. And many fine dioramas were created and much fun was had by all.
This morning, we arrived to discover the pinnacle in sand gardens had been reached:
Thanks anonymous portly geek!
(Soldiers affixed post-installation by heather [formerly known as my beloved gay pal] and I)