Nancy's current fondest wish is to have a room which looks like this: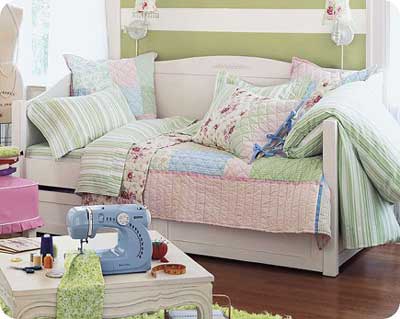 Or any of the girls' rooms in at PBteen. We've had 2 weeks of wailing and gnashing of teeth because there is not such a store in Australia.
So today we all crammed ourselves into a small ute and took ourselves off to Moore Park SupaCenta and after a long and tiring search, eventually came up with some reasonable stuff from Ikea. But who knew that constructing furniture from ikea now requires tools other than the infamous allen key? Fortunately here in the hardly haus we have a wide variety of tools at our disposal (although we had to improvise somewhat with the rubber mallet, by the cunning use of and hammer and face-washer). We ended up with this daybed, this chair in green and a desk which I cannot find a link to.
Bizarre overheard comments in ikea:

You wouldn't want to get a loft bed. What if you had to go to hospital?

You mean you have to put all the furniture together? That's stupid!